News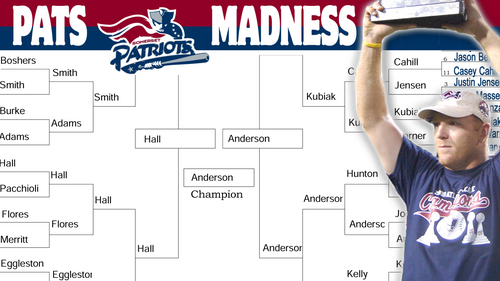 04/02/2020 10:50 AM
-
PATS MADNESS FINAL RECAP:
It's Another Walk-Off For Travis Anderson!
#4 Travis Anderson defeated #1 Billy Hall to conclude an improbable run through the PATS Madness Tournament. Many didn't think Anderson could do it, but who would have thought he'd hit the game-winning walk-off home run to clinch the 2008 Championship?
Anderson had one of the toughest paths to victory in the tournament. He had to get through slugger #13 Kyle Roller, his former coach and manager #5 Brett Jodie, record-setting closer #1 Jon Hunton, fan favorite and 7-year Patriot #6 Scott Kelly, and back-to-back Patriots legends #1 Josh Pressley and #1 Billy Hall. That's a pretty impressive feat.
Anderson was carried off the field after his unlikely heroics back in 2008. This time he's on the shoulders of many other Patriots greats as the PATS Madness Champion.
The winner with the most correct picks was actually Michael Eggleston. Yes he is Aharon's dad. No this isn't favoritism. And speaking of favoritism, Aharon, talk to your dad. He had you losing to Ryan Radmanovich in the Sweet 16!
Note To Fans: We hope you enjoyed the PATS Madness Tournament. The purpose of the tournament was to have a little March Madness fun. In true NCAA Tournament fashion, we wanted it to include upsets, surprises, and run like you would see if you looked at your March Madness bracket. It wasn't meant to have the best player or fan favorite win every matchup. It was in the spirit of an NCAA Tournament bracket, which if you've ever participated in one, never goes according to plan.