News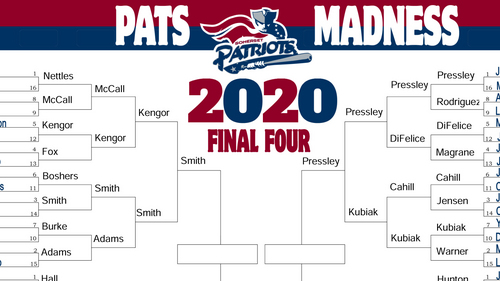 03/29/2020 10:03 AM
-
PATS Madness- Final Four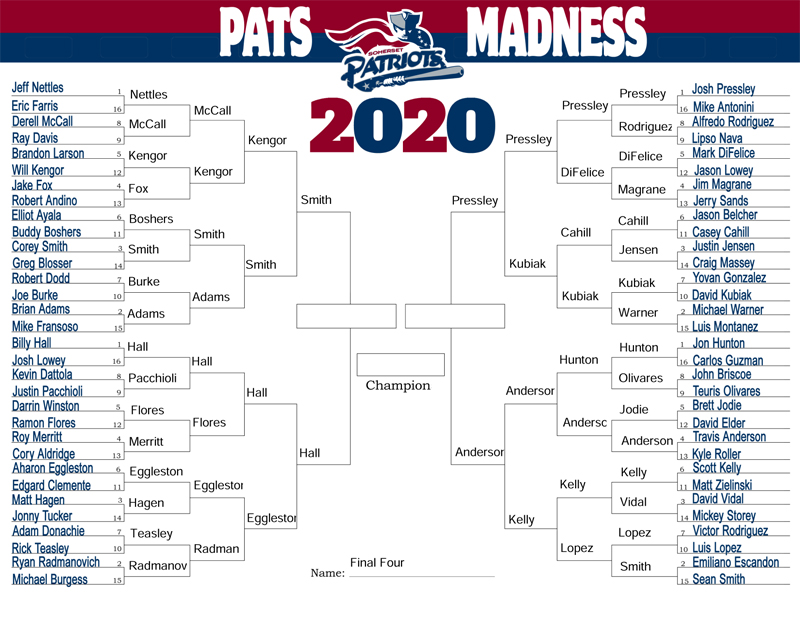 We've made it to the Final Four of the PATS Madness Tournament and remaining players are an impressive bunch.
The Elite 8 Recap:
#3 Corey Smith used his home court advantage to defeat #12 Will Kengor. Smith was a household baseball name throughout the area before joining the Patriots and only became that much more popular playing in Somerset. Kengor battled through impressive matchup after matchup to get to the Elite 8, but Smith and the Central Jersey support was a little too much for Kengor to overcome. This one went down to an All-Star Game extra inning home run derby tiebreaker, and Smith once again hit one to win it. He matches up with Billy Hall in the Final Four. It will be Power vs. Speed.
#1 Billy Hall slides his way past #6 Aharon Eggleston. It would be a lot to ask anyone to slow down Hall, the Atlantic League's All-Time Stolen Base King, but Eggy gave it his best shot, just not Cognac. Hall earned his #1 seed by being one of the best players in team and league history. His place in the Final Four is no surprise to those that watched him play, especially pitchers who saw him get to first, second, then third before they knew what happened.
#1 Josh Pressley ends #10 David Kubiak's run in the tournament. Pressley continues the impressive run many thought he'd have in PATS Madness, which earned him a #1 seed. This guy seems to win everything in Somerset. Championships. MVPs. Top 20 Patriot. Class Couple. Will he add PATS Madness Champion to his long list of accomplishments and "Run On For A Long Time?" He's up against Travis Anderson in the Final Four.
#4 Travis Anderson puts an end to #6 Scott Kelly's trip to the Final Four. Neither is known for great power in Somerset, but both hit walk off home runs in the playoffs for their teams. Oddly enough, both were also the community stars of school programs that brought important messages to students. In this matchup though, Anderson hit Kelly with the six pillars of character before the fan favorite was able to round the bases. Take that good citizenship!
Stay Tuned For Final Four Results On March 31st!