News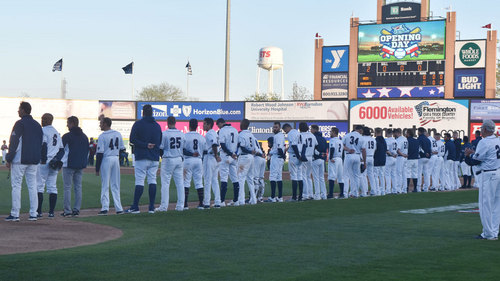 03/28/2020 12:13 PM
-

Bridgewater, NJ- As the calendar shifts to April, the Somerset Patriots roster for the 2020 season continues to round into form. Director of Baseball Operations Jon Hunton and manager Brett Jodie have been hard at work all offseason to put a winning roster together.
Even though the start date of the season still remains in question, that should not stop us from taking a look at the current state of the roster.
So let's do just that!
*Keep in mind that this is not an official depth chart of the team. Instead, it is just a further look at the way the Patriots' roster is taking form.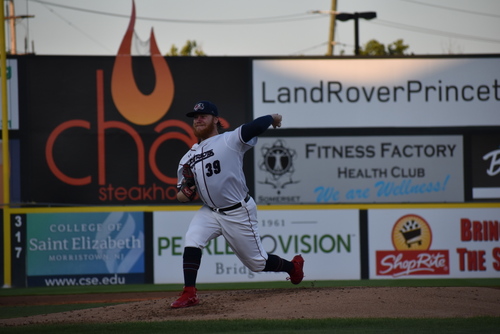 Starting Rotation
Possible starters: Brett Oberholtzer, Thomas Dorminy, David Kubiak, Vance Worley, Pat Dean, Jay Gause, Gunnar Kines
The Patriots potential starting rotation already promises to be one of the team's strengths in 2020. First off, the team is set to return three top-end starting pitchers from last year: Brett Oberholtzer, Thomas Dorminy, and David Kubiak.
Oberholtzer, a former Major Leaguer, was Somerset's Opening Day starting pitcher last year. After a tough start to his season, "Obie" turned into one of the top pitchers in the Atlantic League. The southpaw enjoyed a seven-start stretch beginning in June in which he went 5-0 with a 1.63 ERA. He finished his first true season with Somerset 7-1 with a 3.49 ERA over 14 starts and once again seems poised to be at the top of the rotation in 2020.
Dorminy is a similar story. The former Frontier League Pitcher of the Year worked as the team's sixth starter at the beginning of the season, but became a staple at the top of the rotation in short order. He posted a 2.72 ERA with 97 strikeouts over 92.2 innings of work in his first Somerset season. He allowed more than three earned runs in only one of his 16 starts and carried a 2.17 ERA over his last 10 starts. At the time his contract was purchased in July, Dorminy ranked second in the league in both ERA and strikeouts. Look for similar numbers from the lefty in Year 2.
Somewhat different to Oberholtzer and Dorminy, Kubiak was dominant during his entire sting in Somerset last year. The right-hander led the league in wins (7), ERA (1.76), strikeouts (82), WHIP (0.90), BAA (.173) and ranked second in innings (82.0) over 12 starts at the time his contract was purchased in mid-July. He allowed more than two earned runs in a start only once, struck out 10+ batters three times and at one point set a franchise record with 33.2 consecutive innings pitched without allowing a run. Needless to say, Kubiak figures to once again be one of the best pitchers in the Atlantic League as long he remains with the team.
There are also a number of exciting options for the rotation past the two returning starters.
Recently-announced RHP Vance Worley brings eight seasons of service at the Major League level to the team, including five seasons in the Bigs in which he carried an ERA of 4.02 or lower. Another big leaguer, left-hander Pat Dean, carried a 1-0 record with a 0.82 ERA and 17 strikeouts over 11 innings pitched in his two starts with the Southern Maryland Blue Crabs last year.
Right-handed pitcher Jay Gause and left-handed pitcher Gunnar Kines are two under-the-radar signings that could pay big dividends for the Patriots. Gause, a former York Revolution, posted a 13-4 record with a 3.09 ERA and 100 strikeouts over 125.1 innings in his two seasons in York. Despite Tommy John surgery that ended his 2018 season early, Gause has a track record of success in the Atlantic League that could translate well to Somerset.
Kines is coming off four memorable seasons with the Schaumburg Boomers in the Frontier League. The southpaw posted a 22-17 record with a 2.95 ERA and a 9.0 K/9 over 58 starts in Schaumburg, including three different seasons with a sub-3.00 ERA. Kines would not be the first pitcher in recent memory to translate success in the Frontier League into the Atlantic League with the Patriots (David Kubiak, Rick Teasley, Dorminy and more).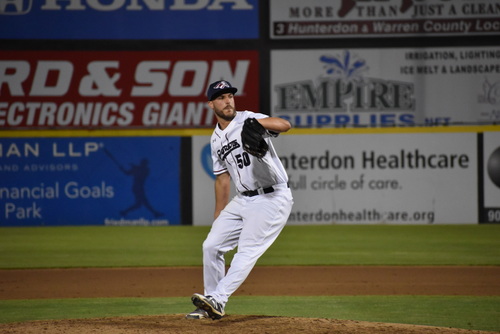 Bullpen
Possible relievers: James Pugliese, Taylor Wright, Johnny Barbato, Josh Almonte
There are a lot of directions the Patriots could be heading as it is currently constructed. Undoubtedly there are a number of additions still to be made, but as of right now there are two returnees and new faces. First, the returnees:
RHP James Pugliese is coming of an All-Star campaign in his first year with Somerset. The New Jersey native had an impressive second half of the 2018 season with the York Revolution (1.26 ERA over 28.2 innings pitched) and put it all together in a Patriots uniform last year. Pugliese went 4-1 with a 3.62 ERA over 45 relief appearances; the majority of which were multi-inning efforts. Expect strong numbers once again and a hybrid role of middle-to-long relief for the former Chicago Cubs farmhand.
Right-hander Taylor Wright might not be a name that jumps off the page to Patriots fans, but he figures to play a prominent role in Somerset's 2020 bullpen. The Brown University product is coming off his first professional season in which he posted a 3-0 record with a 0.92 ERA and 18 saves over 38 relief appearances with the Evansville Otters in the Frontier League. He joined the Patriots at the end of the 2019 season and recorded one save over his four appearances. As of now, Wright might have an inside track towards the first save opportunities in 2020.
RHP Johnny Barbato and RHP Josh Almonte are the two new names joining Somerset's bullpen. Barbato carries three seasons of service at the Major League level and some dominant production at the Triple-A level. Despite also pitching in Japan last year, the former New York Yankee remains just 27 years old and has a great chance to make an impact at the back-end of the bullpen.
Almonte will be a bit of a wild card having recently transitioned from an outfielder to a relief pitcher. Rumors around the baseball mill have Almonte reaching the mid-90s with his fastball and a lively arm. His pitching numbers do not currently stand out, but the Atlantic League represents a great opportunity for the New York resident to showcase his skills as a pitcher.
Don't rule out more additions (specifically some left-handed pitching) and maybe a pitcher or two currently listed as a starter to begin the season in the bullpen.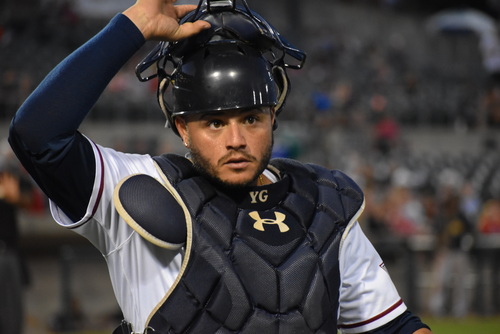 Catchers
Options: Yovan Gonzalez
To this point, the Patriots have only announced the signing of one player whose primary position is catcher: Yovan Gonzalez. A fan favorite, "Yovi" now enters his fifth season with the club, marking the second-longest tenure amongst active Patriots. It comes as no surprise that as of right now, Gonzalez is the favorite to be Somerset's opening day starting catcher.
The Puerto Rico native has been a constant behind home plate for the past four seasons. He is viewed not only as a leader amongst the pitching staff, but a leader in the clubhouse as well.
Jodie said of Gonzalez: "Great team guys are unselfish, work hard and take pride in making those around them better. We have just that in the return of Yovan Gonzalez. Yovan wants to win. He enjoys working with the pitchers whether before the game, during games, or on an off day. Yovan will be one of our team leaders and we are extremely excited to have him back in 2020."
Yovi's offensive numbers have been consistent over his four years in Somerset, including an All-Star campaign in 2017. While it is fair to expect Jodie and Hunton to bring in another catcher to play alongside Gonzalez, Patriots fans can look forward to another season where the all-star catcher will be a significant contributor.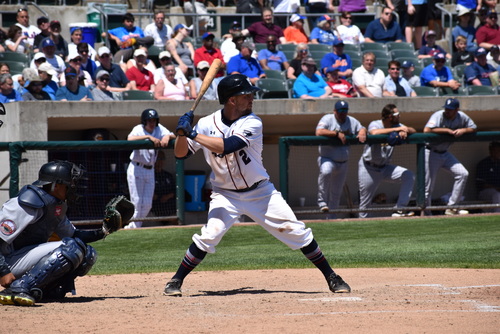 Infielders
Options: Scott Kelly, Will Kengor, Jimmy Paredes, Jason Rogers, Gustavo Nunez
The current Patriots infield is highlighted by a number of familiar faces, possibly none more familiar than another fan favorite: Scott Kelly. Kelly is entering his seventh year with the team. He's the longest tenured active player on the Patriots and will become one of only two players in franchise history to play in seven-different seasons.
The West Windsor native showed off a new range of versatility last year. He not only split his time amongst three different infield slots, but also spent a significant amount of time towards the end of the year in the outfield. Kelly's versatility, defensive prowess, speed and work ethic promise another season of significant playing time.
Somerset notably returns 2019 Team MVP Will Kengor, who will once again slot into the middle of the order. Kengor spent the majority of his time at third base last year, but also displayed an ability to play a strong first base and corner outfield. No matter where he aligns defensively, the reigning Mid-Season and Post-Season All-Star will be a centerpiece of a revamped lineup. Name an offensive category: Kengor led the team in it last year.
The Patriots hope to supplement Kengor's production in the middle of the order with power bats - and both former Major Leaguers - Jimmy Paredes and newcomer player-coach Jason Rogers. Paredes's first season in Somerset was a bit of a rollercoaster, but his final month (.333 average, five home runs, six doubles, 18 RBI, four steals in September) shows what he can bring to the table. Rogers has been a Patriots killer the last two years with the New Britain Bees. He has hit .293 with 20 home runs and 156 RBI in his two Atlantic League campaigns and can be expected to produce similarly in 2020.
Gustavo Nunez represents an excellent glove and veteran experience in the middle of the infield. As of today, he likely slots in as either the team's starting shortstop or second baseman.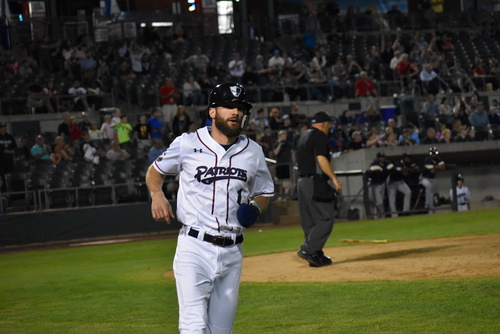 Outfielders
Options: Justin Pacchioli, Jimmy Paredes, Paulo Orlando, Jan Hernandez
The Patriots outfield is shaping up in an exciting way so far. There is speed (Justin Pacchioli) and plenty of power (Paulo Orlando, Jan Hernandez, Paredes). We'll start with the longest-tenured returning outfielder.
Pacchioli, a two-time Atlantic League All-Star, immediately represents the best speed threat on the current roster. He plays an elite outfield defensively and brings speed and on-base percentage to the top of the Somerset lineup. While he has often not found a ton of playing time at the beginning of the season and has struggled a bit with injuries, when healthy, Pacchioli - who currently ranks fourth in franchise history in stolen bases - will be a marquee contributor.
Two new faces - former World Series champion Paulo Orlando and Jan Hernandez - will bring power to the corner outfield slots. Orlando has a good amount of experience in center field, but has most recently been seeing playing time in right field. Hernandez is a converted third baseman who can play in the corner outfield, with most of his experience also in right field. Both players will bring a lot of power and depth to the Patriots lineup.
There will also be times that Paredes gets a start in the outfield. Of the 63 games in which he played with Somerset last year, Paredes started 27 in the outfield.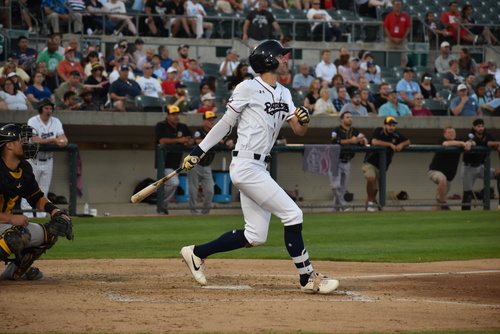 Opening Day Lineup Projection:
Of course, there are still a large number of additions that have yet to be announced. Those currently unknown players will very likely change what the Opening Day roster (and lineup) will look like. Also, and very important to note: we are not Brett Jodie and have no say in what the lineup will look like.
That said, we can still have some fun and take a stab at what the Somerset Patriots opening day lineup would look like with the roster as it is currently constructed (as of Sunday, March 29th).
So here we go!
1. Justin Pacchioli (CF)
2. Will Kengor (3B)
3. Jason Rogers (1B)
4. Jimmy Paredes (DH)
5. Paulo Orlando (RF)
6. Jan Hernandez (LF)
7. Yovan Gonzalez (C)
8. Gustavo Nunez (SS)
9. Scott Kelly (2B)
Starting Pitcher: LHP Brett Oberholtzer
Long Relief: LHP Gunnar Kines, RHP Jay Gause
Middle Relief: RHP James Pugliese, RHP Josh Almonte
Set-Up: RHP Johnny Barbato
Closer: RHP Taylor Wright
Rotation: Oberholtzer, RHP David Kubiak, LHP Thomas Dorminy, RHP Vance Worley, LHP Pat Dean
Stay up to date on all Somerset Patriots news throughout the offseason online; on all of our social media platforms, and on our mobile app. For more information, visit www.somersetpatriots.com.
About the Atlantic League of Professional Baseball (ALPB)
With eight teams in the Mid-Atlantic and Texas, the ALPB is a leader in baseball innovation and a player gateway to Major League Baseball. Through its exclusive partnership with MLB, the Atlantic League tests Major League Baseball rules and equipment initiatives. The Atlantic League has sent more than 950 players to MLB organizations while drawing more than 42 million fans to its affordable, family-friendly ballparks throughout its 23-year history. For more information, please visit www.AtlanticLeague.com.