News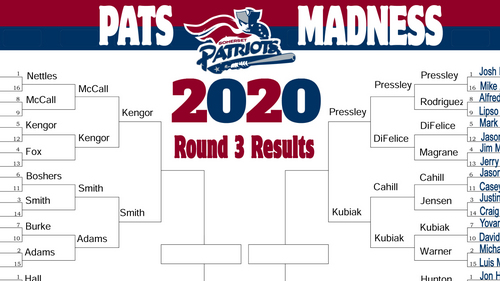 03/27/2020 3:57 PM
-
PATS Madness Round 3 Recap: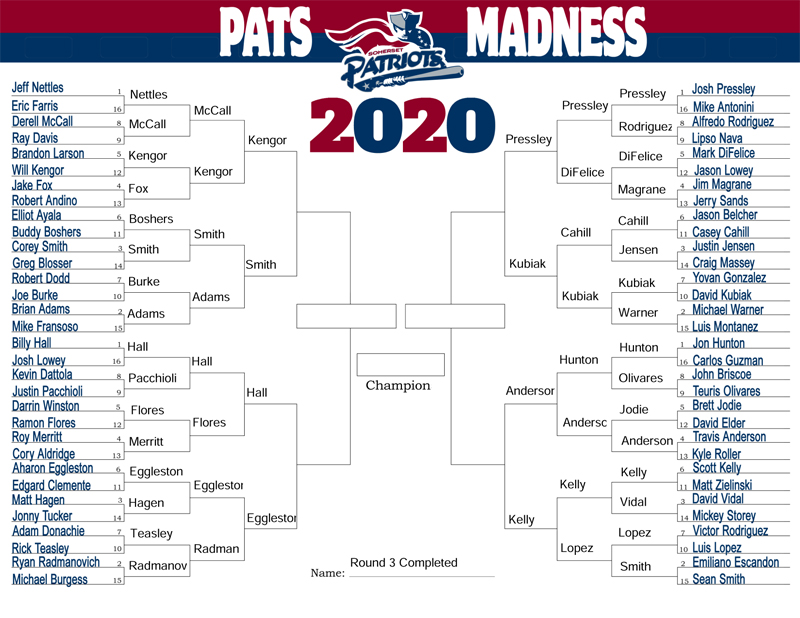 Heading To The Elite 8:
After the biggest upset of the tournament, #8 Derell McCall falls to #12 Will Kengor. Kengor continues to surprise in the tournament, becoming a "bracket assassin" of Patriots greats. Advancing to the Elite 8, Kengor will have to take on the "Pride of Piscataway."
#3 Corey Smith takes down another Patriots legend #2 Brian Adams. This one was a well fought battle. Unfortunately for Adams, Jimmy quit, Jody got married…well, you know the rest.
#1 Billy Hall speeds his way to the Elite 8 with a win against #12 Ramon Flores. Hall swiped this one away from Flores' grasp, just like his record of 66 straight stolen bases in 2000. Flores ended up in Billy's book on opponents. Once you're there, he knows all your weaknesses.
#6 Aharon Eggleston tops #2 Ryan Radmanovich in another highly contested matchup. Some will call this one an upset, but those that watched him play, could never count out "Eggy." Now he can enjoy some Patron and wait for Billy Hall next.
#1 Josh Pressley advances his way in the tournament over #5 Mark DiFelice. This one required Pressley's 2008 Player of the Year performance to top the 2005 Championship Series MVP. Pressley remains one of the favorites on the bracket. Let's see how he fares next round against David Kubiak.
#10 David Kubiak strikes out #11 Casey Cahill in a battle of lower seeds that fought hard to stay in the tournament. Kubiak has been a strong performer, but faces his toughest matchup yet in Josh Pressley.
#4 Travis Anderson climbed the ladder to top #1 Big Jon Hunton. Anderson's heroic's came through over the 6'9" record-setting closer. A #1 seed, Big Jon. Big Jon. Big Jon's Gone. Will Anderson be able to stop Scott Kelly in the Elite 8?
#6 Scott Kelly defeats #10 Luis Lopez. This one took all of Kelly's trademark determination and grit. And maybe a little bit of his speed. Ok that was one more Luis Lopez slow joke before we move on….Will Kelly be able to continue his path to the Final Four through catcher Travis Anderson?
Stay Tuned For Elite 8 Results On March 29th!