News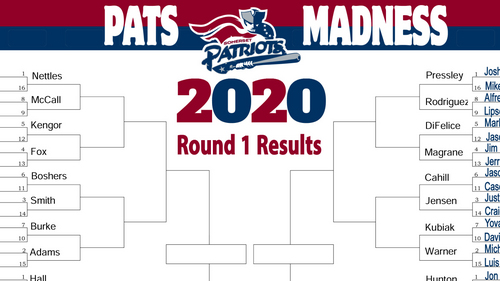 03/23/2020 4:23 PM
-
PATS Madness Round 1 Recap: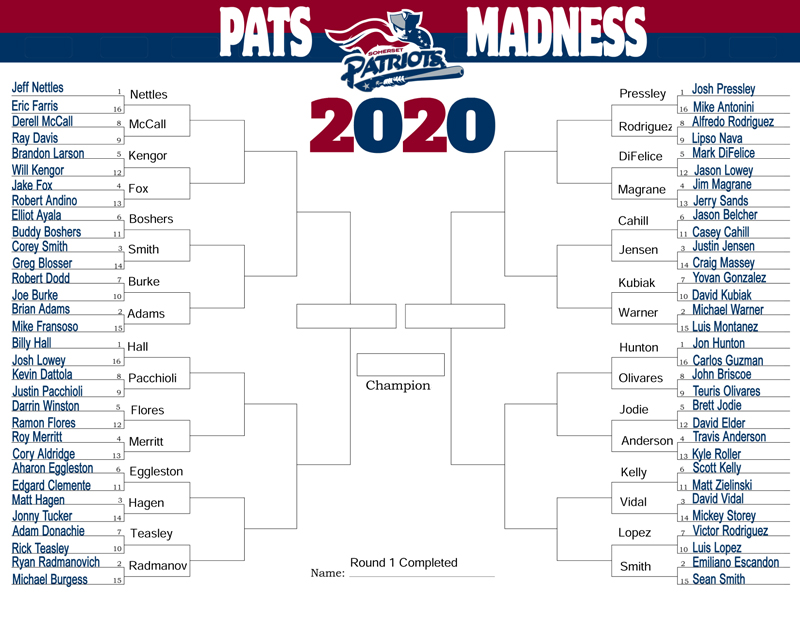 Several high seeds held their own in the first round of the PATS Madness Tournament. No number one seeds dropped to 16 seeds in the round.
UPSET ALERT!
In a first-round stunner, #15 Sean Smith told #2 Emiliano Escandon to "Watch My Feet!" A popular outfielder on back-to-back championship teams in 2008 and 2009, Smith advances to the Round of 32 over someone many people expected to go far in the tournament. Is Smith a Cinderella story? Will we be needing to watch his feet with glass slippers? We'll have to wait and see.
OTHER NOTABLE SURPRISES:
#12 Will Kengor, who is used to MVP type performances, knocked out single-season home run champ and 2008 Championship Series MVP #5 Brandon Larson.
#6 Elliot Ayala, a long-time fan favorite and champion utility player, fell to #11 Buddy Boshers. Boshers was a dominant reliever and a Post Season All-Star in his lone season in Somerset in 2015 in which he helped end the championship draught for the team. He has since gone on to pitch in the Majors after his time with the Patriots.
#10 Joe Burke, one of the team's all-time best defensive first basemen, eliminated #7 Robert Dodd. Dodd was the 2001 Championship Series MVP, but always a scrappy competitor, Burke found a way to advance to the next round.
#12 Ramon Flores takes out fan-favorite #5 Darrin Winston. Winston will always be remembered for his grit and some of the toughest performances in team history. Flores has spent time during the past two seasons in Somerset and used his remarkable start to the 2019 season to earn a Triple-A contract with the Minnesota Twins.
#10 Rick Teasley had to be perfect to get past long-time catcher #7 Adam Donachie. Teasley found all the right pitches, with or without Automated Balls-Strikes, to get by the popular "Donnie Baseball."
#11 Casey Cahill takes out #6 Jason Belcher. The underrated Cahill found a way to top his long-time batterymate in Belcher, both two-time champions during the same era of Patriots Baseball.
#10 David Kubiak struck out the very popular #7 Yovan Gonzalez. Yovi was playfully referred to online by Kubiak as the "Mayor Of Somerset." With the polls closing, there is apparently a new mayor in town!
#10 Luis Lopez takes down 2004 ALPB Player of the Year #7 Victor Rodriguez. This was a close one, and not because either of the two players had great speed out of the box. Both were professional hitters that were at their time in Somerset among the best hitters on the team and league.
Stay tuned for Round 2 results on March 25th!