News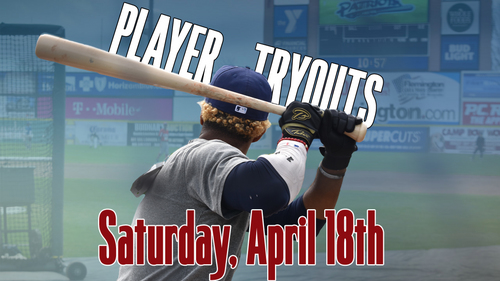 01/21/2020 9:00 AM
-
Bridgewater, NJ- The Somerset Patriots have announced that open player tryouts for the team will be held at TD Bank Ballpark on Saturday, April 18th beginning at 8:30 am.
There will be an administration fee of $50 to tryout, with the proceeds benefiting the Somerset Patriots Children's Educational And Sportsmanship Foundation, which donates to various charities supported by the Somerset Patriots.
Players are to report to TD Bank Ballpark by 8:00 am for registration. Participants must be high school graduates and at least eighteen years of age. All those present should provide their career statistics and must supply their own wooden bats and baseball gloves. All participants will be required to sign a release form before trying out for the team.
Somerset Patriots manager Brett Jodie, Pitching Coach/Director of Baseball Operations Jon Hunton, and recently announced Hitting/Third Base Coach Chuck Stewart will be on hand to evaluate the players at the ballpark.
The Somerset Patriots have invited 23 players from tryouts to Spring Training over the past 21 seasons. One recent tryout signee was infielder and fan favorite Scott Kelly, who has been with the team since the 2014 season.
In 2012, the Somerset Patriots signed left-handed pitcher Roy Merritt from the tryouts. Merritt helped the Somerset Patriots win the 2015 Atlantic League Championship, earning Playoff MVP honors.
"The tryouts give us a chance to find a player that might have been overlooked or just not fully given the opportunity to play," said Patrick McVerry, President/ General Manager of the Somerset Patriots Baseball Club. "We've been very successful over the years at finding that 'diamond in the rough' that not only made the team, but contributed to our team's winning ways."
The Somerset Patriots will be back in action on Friday, May 1st for Opening Day at TD Bank Ballpark. Stay up to date on all the team news throughout the offseason online; on all of our social media platforms, and on our mobile app. For more information, visit www.somersetpatriots.com.
About The Atlantic League of Professional Baseball (ALPB)
With eight teams in the Mid-Atlantic and Texas, the ALPB is a leader in baseball innovation and a player gateway to Major League Baseball. Through its exclusive partnership with MLB, the Atlantic League tests Major League Baseball rules and equipment initiatives. The Atlantic League has sent over 950 players to MLB organizations while drawing more than 42 million fans to its affordable, family-friendly ballparks throughout its 22-year history.
For more information, please visit www.AtlanticLeague.com.