News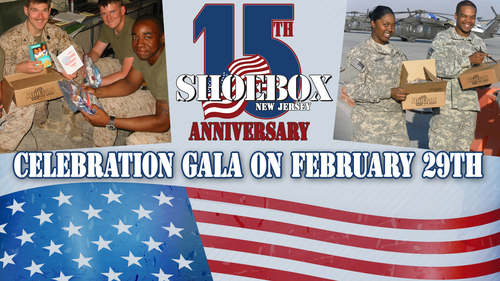 01/20/2020 9:02 AM
-
Somerville, NJ - Operation Shoebox New Jersey will celebrate its 15th anniversary of maintaining a supply line of personal care packages to US troops deployed overseas with a cocktail reception, dinner and live auction at Trump National Golf Club in Bedminster, New Jersey on Leap Day, February 29 beginning at 6:00 pm.
The volunteer, non-profit organization was founded on February 4, 2005 in Somerville at a meeting that was attended by local and community leaders, including Steve Kalafer, owner of Flemington Car & Truck Country Family of Brands and the Somerset Patriots Baseball Club.
The Kalafer family, and the Somerset Patriots will be recipients of the Operation Shoebox New Jersey Founders Award for their significant contributions to the success of the organization since its inception.
Operation Shoebox New Jersey hosted its first public packing event in downtown Somerville in May 2005 at an empty storefront in the former Somerville Shopping Center on West Main Street, assembling 600 care packages.
Since that time, volunteers have packaged and shipped nearly 170,000 care packages overseas at hundreds of packing events throughout New Jersey at schools, firehouses, houses of worship, VFW halls, YMCA gymnasiums, hotel ballrooms, corporate cafeterias – even the deck of the USS New Jersey battleship anchored in the Delaware River.
The dinner program will include a video highlighting the organization's involvement with the local Somerset County community and commitment to hundreds of thousands of US troops deployed overseas; remarks by founder and executive director Rod Hirsch, Somerset Patriots President Patrick McVerry, Kalafer and his sons Jonathan and Josh.
Special guest Joseph Bodnar of Bodnar's Auctions, the reigning bid calling champion of the New Jersey Society of Auctioneers, will preside over the live fundraising auction, with all proceeds dedicated to pay for the shipment of Operation Shoebox New Jersey care packages. All guests will receive a bidder's paddle so that they can participate in the lively auction.
The auction will feature gift baskets, electronics, gift certificates and limited edition artwork donated by nationally-renowned sports and wildlife artist James Fiorentino, who will also attend the dinner.
There are several corporate sponsorship packages available, which include premium seating and high-visibility advertising at the event and in the dinner program.
Individual tickets are $250. Seating will be available at tables of eight and ten. For those unable to attend, there are opportunities to purchase advertising in the dinner program; donations are also accepted.
Email Operation Shoebox New Jersey at [email protected] for reservations or call (908) 255-4172 for further information on sponsorships and advertising.
Credit card payments can be made on the website using the PayPal link.
The Somerset Patriots will be back in action on Friday, May 1st for Opening Day at TD Bank Ballpark. Stay up to date on all the team news throughout the offseason online; on all of our social media platforms, and on our mobile app. For more information, visit www.somersetpatriots.com.