News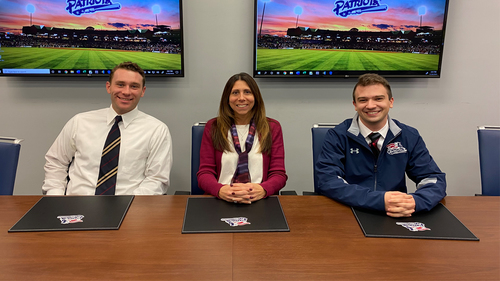 11/26/2019 4:48 PM
-
Bridgewater, NJ – The Somerset Patriots have announced new employee hires and staff promotions prior to the 2020 season.
Suzanne Colon has been named the team's new Controller. She is taking over for long-time Senior Vice President/Treasurer Ron Schulz, who is retiring at the end of November after 12 years with the organization. Prior to joining the Somerset Patriots, Colon worked for the USGA (United States Golf Association), most recently as Director of Financial Operations and Controller. She received her accounting degree from Montclair State and earned her CPA license in February 1995. Colon resides in Bridgewater with her husband and three children.
Former relief pitcher Nate Roe has been hired as a Group Sales Manager. Roe joins the Somerset Patriots front office staff after a seven-year professional baseball career, most recently as a righty out of the bullpen for the Somerset Patriots. He is a graduate of Rutgers University who majored in communication and minored in sociology. Roe will be responsible for group sales and headline a new school program as part of the team's community relations efforts. He grew up in Plainfield and currently resides in Scotch Plains.
Andy Studna has come on board as a Group Sales/Operations Manager. Studna was born, raised, and currently resides in nearby Raritan. He was just two years old when he attended the Somerset Patriots' first home game in 1999 and spent most of his childhood summers going to games. After working as a batboy and a ballpark usher since 2014, Studna was hired as an operations intern in 2018. Following his graduation with a bachelor's degree in Journalism from Monmouth University in May 2019, he was hired as a full-time member of the front office staff. His responsibilities include booking group sales, season ticket packages, marketing partnerships, and assisting the day-to-day operations of TD Bank Ballpark.
The Somerset Patriots have also announced the promotions of Michele DaCosta to Director of Administration and Zach Keller to Director of Operations.
HomePlate Catering And Hospitality has announced the promotion of Jimmy Search to Assistant General Manager at the ballpark.
The Somerset Patriots will be back in action on Friday, May 1st for Opening Day at TD Bank Ballpark. Stay up to date on all the team news throughout the offseason online; on all of our social media platforms, and on our mobile app. For more information, visit www.somersetpatriots.com.
About The Atlantic League of Professional Baseball (ALPB)
With eight teams in the Mid-Atlantic and Texas, the ALPB is a leader in baseball innovation and a player gateway to Major League Baseball. Through its exclusive partnership with MLB, the Atlantic League tests Major League Baseball rules and equipment initiatives. The Atlantic League has sent over 950 players to MLB organizations while drawing more than 42 million fans to its affordable, family-friendly ballparks throughout its 22-year history.
For more information, please visit www.AtlanticLeague.com.