News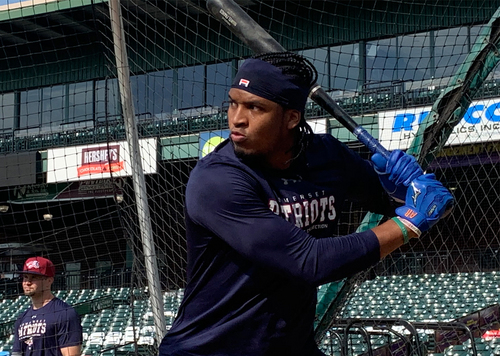 06/26/2019 12:30 PM
-
By Marco Meglio
Bridgewater, NJ- The long-awaited arrival of outfielder Jimmy Paredes to the Somerset Patriots took off with a bang Tuesday night, as he exploded for three hits, a three-run homerun, and five RBI in one of the most impressive debut performances in team history.
Almost exactly two months since Opening Day, the Patriots were unsure when they would ever get the MLB veteran in the lineup, as visa issues continued to be the one roadblock in the way from him and his teammates.
Now, Paredes is in the lineup and ready to add a major dynamic element to an offense looking to click at the right time. The newcomer has plenty of Major League service, spending time with the New York Yankees, Houston Astros, Kansas City Royals, Baltimore Orioles, Philadelphia Phillies and Toronto Blue Jays organizations.
He officially spent six seasons in "The Bigs," with his best campaign coming in 2015 with the Orioles. That season he played 104 games, slashing .275 with 10 homeruns and 42 RBI. He also cranked 17 doubles and had a .416 slugging percentage.
His most recent MLB service came in 2016 with the Phillies, where he ended up playing 76 games and logging 31 hits for the club.
Overall he smashed 20 homeruns, drove in 100 RBI and maintained a .251 hitting line throughout his six years in the big leagues.
Paredes' eventful debut should come as less of a surprise to most, as he knows Lancaster's Clipper Magazine Stadium quite well. His previous Atlantic League service came with the Barnstormers last year, playing 21 games with the club, owning a .363 batting average with three homeruns.
A more overall theme that relates to Paredes has been the impact newcomers have made in their short time with the Patriots.
First baseman Edwin Espinal sprung onto the scene with a game winning, walk-off grand slam with two outs in the ninth inning of his second game in Somerset. Since then he's been a steady middle of the lineup player, hitting .308 with three homeruns and 27 RBI on the year.
Other newcomers such as Will Kengor and Mike Ohlman had hot starts to their Patriots' careers early on in the season and have shown no signs of slowing down.
Even after being acquired in mid-May, center fielder Michael Crouse has provided a new element of pop to the lineup, leading the team in homeruns with five in just 25 games.
One dynamic of Paredes' game is his versatility as a right fielder and as a third baseman. The outfield has sustained nicks and bruises throughout the season, with Justin Pacchioli, Mike Fransoso and former Patriot D'Arby Myers all sustaining injuries at various parts of the season. Infielder Scott Kelly has filled in at right field at times, even though his natural positions are shortstop and second base. Kengor and Espinal have been a main staple at the corners of the infield, but the added depth from Paredes at both positions only makes Somerset stronger and more capable for a deep playoff run.
Paredes may have been a little late to the party, but the Patriots could more than use another solid bat to help a late first half surge going into the All-Star break.