News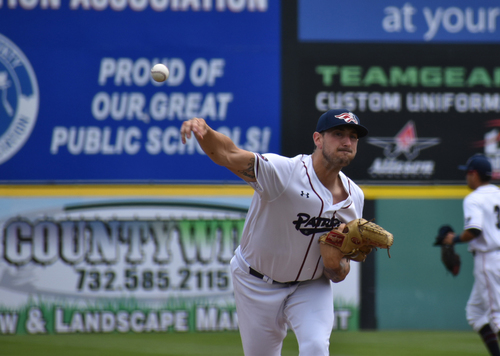 06/27/2019 9:10 AM
-
Bridgewater, NJ - Every successful pitching staff has to have its ace. The guy who leads the way, puts the team on his back every five days and sometimes has to play the role of stopper when the team is on a losing streak. For the Somerset Patriots this season, it's been right-handed pitcher David Kubiak.
The Patriots pitching staff currently leads the Atlantic League with a 3.35 ERA and has been headed by Kubiak's impressive 1.19 ERA through his 10 starts. He has allowed just nine earned runs over 68 innings pitched spanning those 10 starts.
The SUNY Albany alumnus has enjoyed dominant performances this season, including an 11-strikeout outing as a part of a combined one-hitter against the Lancaster Barnstormers, and a complete game two-hitter against Southern Maryland. Additionally, Kubiak has yet to allow more than two runs in any of his 10 starts on the season.
Kubiak continued to build upon his strong season this past Sunday, scattering two hits over seven scoreless innings with a season-high 13 strikeouts in a winning effort against the York Revolution. It marked the most strikeouts for an Atlantic League pitcher in a single game this season.
The third-year Patriot currently leads the league in wins (7), ERA (1.19), strikeouts (71), win percentage (.880), WHIP (0.93), and batting average against (.164). Craig Stem (Southern Maryland) is the only other pitcher in the league to rank in the top three in at least three of these categories.
More importantly, Kubiak's performances have been used to extend long win streaks and stop the bleeding on prolonged losing streaks.
The righty has also reached at least six innings in nine of his ten starts, providing relief and days off for the bullpen during the dog days of the season.
The main key to his game early on has been attacking the zone. Kubiak has thrown 911 pitches, with 594 going for strikes. That 65% clip has allowed Kubiak to keep hitters off balance, leading to a lot of out-in-front swings and pop-ups.
Kubiak's sole loss came on June 4th, a game in which he threw seven scoreless innings to begin the night and utlimately allowed just two runs over eight innings.
The Kubiak train has showed no signs of slowing down, and neither have the Patriots.