News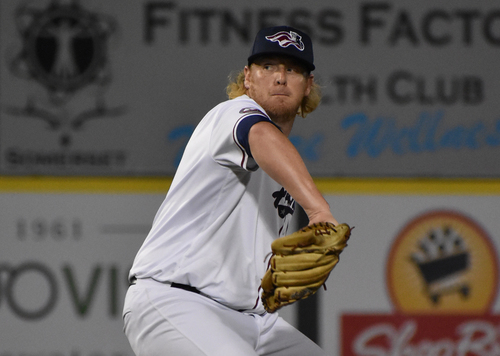 06/18/2019 5:19 PM
-
By Marco Meglio
Bridgewater, NJ - Returning for his third season with the Somerset Patriots, LHP Mike Antonini has not only answered the bell, but is excelling in his new role as the team's closer.
In one of the biggest games of the season, Antonini recorded his 20th save in Somerset's 5-2 win over the Long Island Ducks on Tuesday, June 18th. The 20 saves is the most in the Atlantic League this season. Antonini has reached the mark while boasting an impressive 1.23 ERA for his 23 appearances.
Coming off a stellar 2018 season where he owned a 1.41 ERA across 42 relief appearances, the Drexel Hill native has shown no signs of slowing down, even when the pressure is on.
"I think that with this role I'm just looking to get three outs, or whatever it is," Antonini said. "My mindset is get the win for the team. I'm going into the inning looking to shut the door for the starter or the reliever."
Antonini has learned from one of the best closers in the Atlantic League. Somerset's pitching coach Jon Hunton, who owns the league's career record (167) and single season record (49) for saves, has been a huge help to Antonini and his adjustment to being the closer.
"Jon has been great. He's been amazing to bounce ideas off and talk about different pitches and pitch selection," said Antonini. "He's been in this league for a while, so he knows a lot of the guys. He knows what to expect going into certain situations."
The former 41st round pick by the Philadelphia Phillies transitioned to the bullpen last year and proved to be effective under any circumstance. He was in a bit of shock being handed the closer role, but he wants to do everything in his power to not relinquish it.
"Looking back last year, I started as long relief and then got into the 7th and 8th inning role. I didn't know I would get into this role as the new closer," added Antonini. "I had no expectations coming into this season, all I wanted to do was win a championship. I don't know if I thought about that role, but when I have it, I don't want to lose it, I want to maintain it and keep it going."
Like most relievers, they start their careers as starters. Over his 13 professional seasons playing baseball, Antonini has started in 206 games. He has service with the New York Mets, Los Angeles Dodgers, and Los Angeles Angels organizations. Adjusting from the starter role to relief was different for Antonini, especially changing his approach to the hitters.
"As a starter you go in with a game plan and you try not to show all your pitches. If you don't have something going in the first inning you might have something going when you see a guy in his third at-bat," remarked Antonini. "Whereas now I need at least two pitches working on the first batter and build off that. I still have the mindset of attacking, and not walking guys. I want you to put the ball in play to beat me. I know what it's like to go six shutout innings and still get the loss. I want to have the starter's back and get them their win."
Manager Brett Jodie has not been shy about using him, especially multiple times in one week. The mutual respect between the two has boosted the 33-year-old's game for the better.
"When the manager has full confidence in you it gives you a boost of confidence yourself," said Antonini. "Going back-to-back was something I only started to do at the end of the year last year during do-or-die playoff games and I've done it a few times already this year. You kind of get the feel for it and know there's only a handful amount of save opportunities and you have to lock it down."
The stellar start to the season has helped put the Patriots in a heated division battle. Antonini feels he doesn't need to change anything to keep the level of success.
"Keep doing what I've been doing. Don't try to do too much and just know what I'm capable of doing," Antonini said. "Mixing in and out and getting on the same page with catchers and attacking the zone. We do a good job with the catchers here by having a game plan and following and executing it every time."