News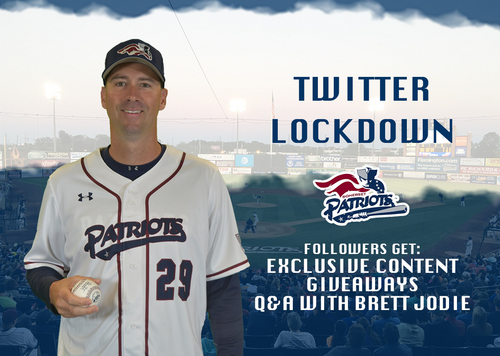 06/10/2019 3:08 PM
-
Bridgewater, NJ - Starting at midnight on Monday, June 17th the Somerset Patriots Twitter (@SOMPatriots) will be on lockdown for a full 24 hours so that you, the fans will have access to exclusive content, giveaways and more as we begin on our #QuestTo10K
Be sure to follow our Twitter account, @SOMPatriots, before we officially lockdown on Monday. At that time anyone who is not following the account will not be able to see any tweets and miss out on all the fun. All new followers will also be entered to win a jersey signed by the entire team.
At the top of each hour we will be posting exclusive content including player videos, wallpapers in addition to giving away autographed baseballs, tickets and more.
At 3 p.m., manager Brett Jodie will join us for a Q&A session, where he will answer the questions you tweet the account throughout the day.
Once again, if you do not follow the account before Monday, you will not be able to tweet your questions in, and ultimately miss out on this exclusive opportunity.
Don't get locked out for the #QuestTo10K