News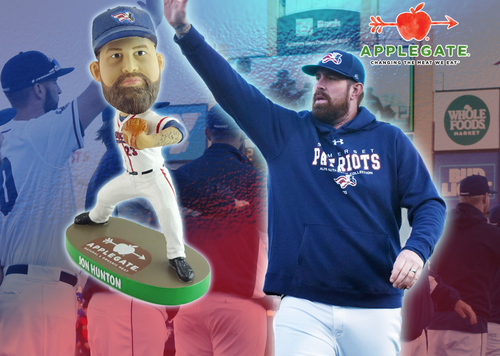 05/08/2019 1:51 PM
-
Bridgewater, NJ – Somerset Patriots fans have spoken and they have voted Jon Hunton as the Bobblehead Doll to be distributed at the July 31st game presented by Applegate.
The first 1,500 fans that come out to TD Bank Ballpark for the 7:05 pm game against the York Revolution will receive this special giveaway. Remember that gates open at 6:00 pm, so arrive early if you want to make sure you get your bobblehead. This will be a very popular item!
Voting for the bobblehead choices began early in the off-season and concluded at Fan Fest on Saturday, April 13th. Hunton carried the voting over two other fan favorites - catcher Yovan Gonzalez and shortstop Alfredo Rodriguez.
"It's truly an honor knowing that the Somerset Patriots fans, who are the best fans in the Atlantic League, voted and selected me to be the organizations next bobblehead," said Hunton. "It's a privilege to be a bobblehead and placed among the other Somerset Patriots all-time greats like Sparky Lyle, Josh Pressley, Billy Hall, Michael Warner, John Montefusco, Shane Spencer, Brett Jodie, Jeff Nettles, Adam Donachie, and of course Sparkee and Slider. It's very humbling. This might be the most special of all my Somerset Patriots honors. Thank you fans!"
The pick is not surprising since Hunton is currently in his eighth overall season with the Somerset Patriots and second as the team's Pitching Coach/ Director of Baseball Operations. He previously spent six seasons as a record-setting relief pitcher; the latter four of which he was also the Director of Player Personnel.
The North Plainfield, New Jersey native spearheaded a pitching staff that led the league in strikeouts (997) and finished second in ERA (3.62), WHIP (1.29), BAA (.253) and walks allowed (335) in his first season as pitching coach. He also played an integral role in putting together a roster that finished with the best overall record in the Liberty Division.
Hunton finished his Atlantic League playing career as the single season (49, 2014) and all-time saves leader (167), 158 of which came with Somerset. Additionally, he was twice named an Atlantic League All-Star (2013 and 2016) and has won three Atlantic League championships, including two with the Patriots (2008 and 2015).
In 2014, Hunton became the first player in professional baseball to hold the title of Director of Player Personnel while still playing. The 6'9" closer either led or finished second in the league in saves in four-straight seasons (2013-2016). He previously had years of service in both the Chicago Cubs and Oakland Athletics organizations.
Hunton has 275 career saves over a 14-year career that's taken him all over the United States and around the world.
About Applegate
For over 30 years, we have been producing high-quality natural and organic hot dogs, bacon, sausages, deli meats, cheese and frozen products. Our products are made without GMO ingredients and we source our meat from farms, where animals are treated with care and respect and are allowed to grow at their natural rate, all part of our mission – Changing The Meat We Eat®. Natural can mean many things, but to us natural means that the meat inside our products are:
From animals raised humanely without antibiotics, hormones or growth promotants
From animals fed a vegetarian or 100% grass diet
Free of added chemical nitrites, nitrates or phosphates
Free of artificial ingredients or preservatives