News
05/04/2019 6:45 AM
-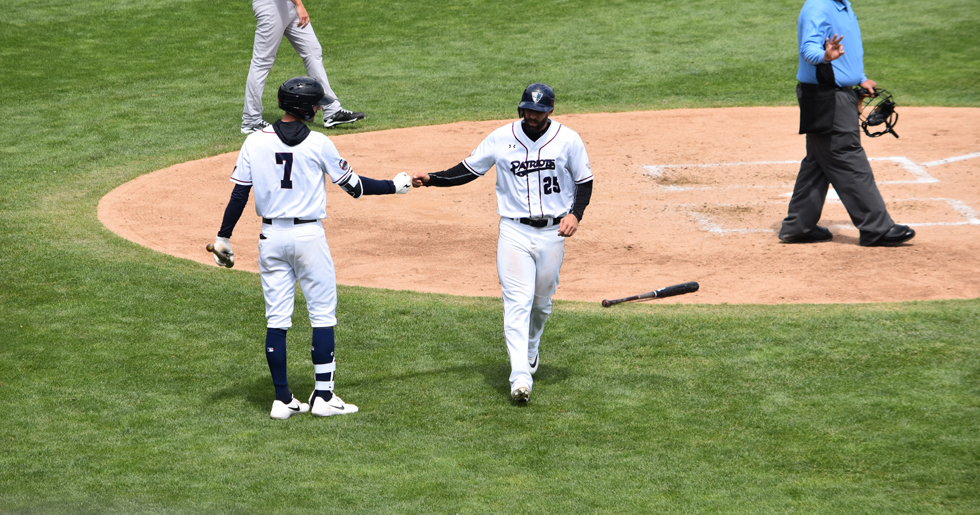 By Marco Meglio
As does any team in professional sports, starting out the season on the right foot is always something players strive for. The Somerset Patriots entered 2019 with a lot of high hopes and expectations, getting their first taste of the new season with a six game homestand to start.
Overall, they finished 4-2 on the homestand with a lot of positives and takeaways from a variety of the cast.
First, is the impressive pitching performance by the staff from top to bottom. The Patriots owned a 3.06 ERA through the first six games, while collecting 50 strikeouts and allowing 42 hits in 50 innings. They have set the tone early in each game, limiting homeruns while also punching out runners in key situations with men on base.
After opening day was rained out, the Patriots were forced to play a double header the following day. Brett Oberholtzer is back for a second go around with the Patriots. He took the mound as the opening day starter and was able to turn in a solid performance even after allowing three runs in the first inning. Newly acquired Rey Navarro added the Patriots first hit of the season, a crushing solo homerun to right field. The Patriots would fall 8-4 in game one but would bounce back later that night.
In game two, David Kubiak delivered an amazing season debut. He set the tone early, and went on to pitch six solid innings, with a Tyler Clark homerun as his only mistake. Kubiak punched out four, while only allowing four hits. He worked diligently and never seemed to run into any real trouble throughout the night.
The hitting on day one was in full force, especially in game two of the double header. Newcomer Will Kengor showed why the Patriots signed him, going 1-for-2 with three RBI and adding a walk as well. He's been off to a hot start with his new club, slashing .412 with seven hits through six games. Not to mention he has been a staple in the middle of the lineup, comfortably hitting in the three, four and five hole at times.
"I would be lying if I wasn't a little nervous. Guys are getting their feet wet and I'm one of them. To come back in that second game, I think everyone had a hit, and it was a team effort," said Kengor.
Outfielder Ramon Flores started his 2019 campaign off right as well. His bases clearing three-run triple in game two of the double header proves that the offseason work has paid off. Down 20 pounds since last season, his seven RBI's are fourth most in the Atlantic League.
The Patriots finished out their series with the New Britain Bees by taking game three, 4-1. The stars of the game were a combination of the pitching and the middle of the lineup. Rick Teasley went four innings without giving up a run and then handed duties off to Duane Below. Below and three others finished out the game, allowing just one run and six hits.
"First time out you just try to get a quality four, five innings and that's what we've been doing. We got the bullpen coming in and throwing well which is all we can do," Teasley said.
Alfredo Rodriguez's four-for-four game was a testament to how hot he has come out of the gate, slashing .304 in six games. Behind him Flores, Kengor and Michael Ohlman combined for five hits, two runs, and three RBI.
In just his short time here, Ohlman has made a solid impression. He has hit safely in four of the first six home games. In addition, his hits have been timely, including a go-ahead RBI single in Tuesday night's win over the newly acclimated High Point Rockers.
"Everyone's being accountable for their own at-bats, everyone's pulling for each other. You want the guy ahead of you to get on for you and stuff like that becomes contagious," said Ohlman.
The only hiccup through the home stand was Monday, where the Patriots were only able to muster up three hits. Even then, they got a solid performance from Thomas Dorminy, who went four innings, surrendering two runs and four hits. Other than the two-run third inning, he looked very sharp, locating all his pitches especially his off-speed stuff.
One game later, the Patriots showed their resiliency with a bounce back performance. They finally broke through in the sixth inning of game two vs the Rockers, scoring two runs to take the 2-1 lead, a lead they wouldn't surrender.
The star of the game was starter Logan Darnell, who pitched six phenomenal innings of two hit ball, while allowing only one run and striking out seven.
"It's perspective. It's early in the year. You can't look at a two-game stretch where we might have not gotten many hits but we grinded out and that's baseball," said Darnell. "As long as you can compete and keep our score higher than there's that's all that matters. We're not going to go out there and score 10 runs every game, which we would love to do. But we're not going to change anything. We go out there and try to have a good approach."
Following Darnell's performance, the ball would be handed to relievers James Pugliese and Mike Broadway. Those two pitched two scoreless innings before letting new closer Mike Antonini step in for the save.
Antonini recorded his second save of the season but more importantly, has solidified himself a role as the team's primary closer. The two saves were the first of his career.
The Patriots capped their homestand with another solid victory on Wednesday night, beating the Rockers 7-6 to take the series. A seven-run first inning explosion was all they needed to get the job done. Craig Massey had another solid performance, going 3-for-4 with two RBI and a walk.
In his debut with the Patriots Liam O'Sullivan was brilliant, going five innings, allowing just two hits and no runs. Once again, Antonini closed the game out, notching his third save in the first six days.
The Patriots have also sustained success without a few key players in their lineup. Newly acquired D'Arby Myers has been sidelined with a shoulder injury and thus has missed time but is expected to be back with the team on Friday. In addition, Edwin Espinal and Jimmy Paredes have not been able to play because of visa issues. With Paredes out, the outfield depth becomes thinner.
Veteran leader Mike Fransoso is happy with how things have started. "It's nice to start at home. It's been a little bit colder than usual but overall, we've done well. Pitchers have thrown the ball really well and hitting will come around. We got some guys swinging some hot bats and some guys struggling but that happens at the beginning of the year. But I think we're clicking right now, and we have a winning record so we're just trying to keep that going on the road."
It's early in the season where players are still figuring out timing and getting adjusted to a new team, so the expectations are tempered just a bit. Plus, we have yet to see the roster fully healthy in action.
The Patriots head out on the road for the first time looking to stay on track until the next home stand begins on Thursday, May 8th.