News
02/14/2019 10:46 AM
-
Bridgewater, NJ – As promised, the Somerset Patriots are working hard to provide our fans with a new mobile app to follow their favorite team and enjoy rewards all year long.
We are excited to announce that we have entered into a partnership with FanMaker to create and host the Somerset Patriots Official Mobile App.
While our app is still being completed to the level expected by the team and our fans, we wanted to start the process of making sure past users, and those interested in downloading the new version, can be ready for the season.
The new Somerset Patriots Official Mobile App is available to download on the Apple Store for iOS users. Android users can simply update the previous Patriots App to get the new version.
As of now, the new app is centered on our very popular MyRewards program where fans can earn points throughout the year in several different ways (engaging in content, attending games, winning contests, etc.). Those points can then be redeemed for items ranging from VIP experiences, memorabilia, merchandise, partner-related items, and more.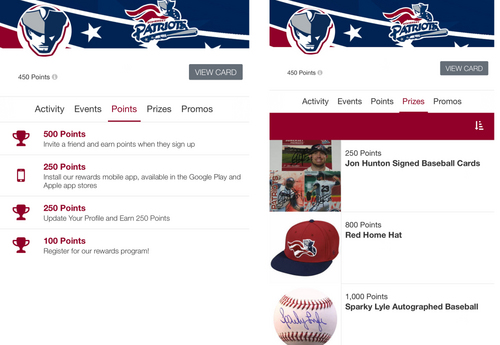 Great news for fans with prior MyRewards Points! All the points you have already accumulated for this season have been transferred over to our new app. You simply will need to recover your previous account by clicking below and following the instructions.

The Somerset Patriots Mobile App is also set up to highlight our 2019 schedule and allow for fans to purchase tickets for games. Notice the numbers in the top left of our events? Those are points you will be able to automatically earn just for attending each game. Bonus points will also be available throughout the season.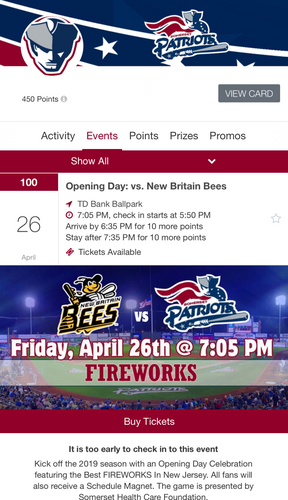 The app is a work in progress and will include more sections in the coming weeks for team news content, roster, statistics, and much more. We wanted to share this current version with fans to be able to get back to collecting MyRewards Points. Granted the new platform will require some getting used to, but the Somerset Patriots and FanMaker are committed to providing our fans the very best experience possible with our new app.
And a little reward to get you started, enter Welcome in the Promos Section for 100 Points: