News
11/02/2018 10:57 AM
-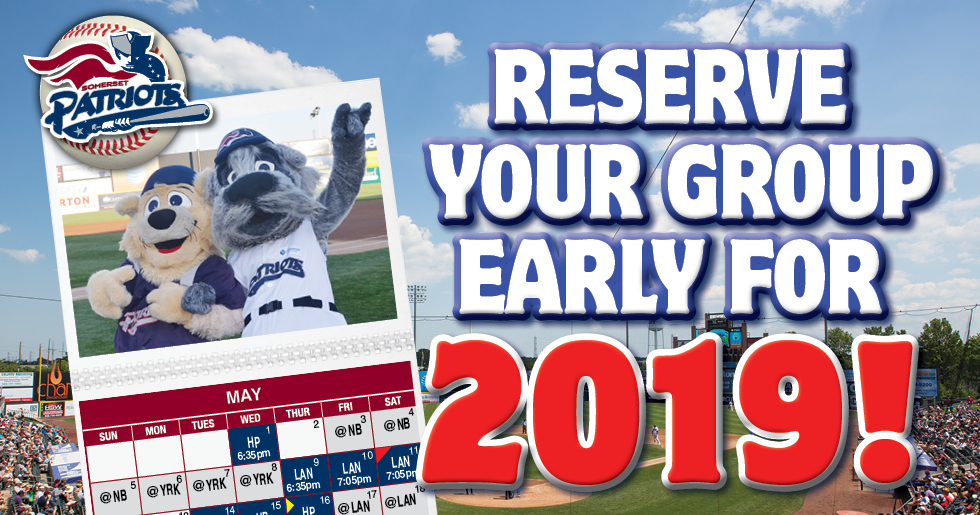 Bridgewater, NJ- The Somerset Patriots have announced that the team has placed Group Tickets on sale for the upcoming 2019 season.
Groups will be able to enjoy Somerset Patriots games in a variety of ways including group reserved seating, Ballpark BBQ, Party Deck, Diamond Club, School Spirit Nights, Community and Fundraising Nights, Hospitality Suites, Birthday Parties, Baseball Buddies, and many theme nights throughout the season.
Click the button below for more information on the following opportunities:







Groups of over 30 guests receive discounted Upper Box tickets of $8.50 throughout the season. The Somerset Patriots provide large groups with the opportunity to receive tickets as low as $5.00. The Patriots also feature discounted group tickets in the Field Box seating areas for $9.50 and Premium Field Box for $12.50.
Group tickets are on a first come first served basis. To guarantee a desired date, group leaders are asked to book their group outings as soon as possible as there are a limited number of group tickets available per game.
The team will host 18 firework nights and will be home on Mother's Day on Sunday, May 12th and Father's Day on Sunday, June 16th. The team's promotional calendar of events is currently in the works and will be announced throughout the off-season.
Four day-night double headers are scheduled for the season. On Thursday, May 16th, the Patriots will take on the High Point Rockers at 11:05 am and 6:35 pm. On Wednesday, May 22nd, Somerset will host the Sugar Land Skeeters for an 11:05 am and 6:35 pm game. The Patriots will take on the Southern Maryland Blue Crabs at 11:05 am and 7:05 on Wednesday, June 5th. The final day-night double header will take place on Wednesday, July 31st at 11:05 am and 7:05 pm against the York Revolution.
In addition to the early games of the day-night double headers, the Patriots will also have an 11:05 am games on Thursday, July 18th versus the York Revolution and Wednesday, August 14th versus the Lancaster Barnstormers.
The Somerset Patriots will be back in action on Friday, April 26th for Opening Day at TD Bank Ballpark. Stay up to date on all the team news throughout the offseason online; on all of our social media platforms, and on our mobile app. For more information, visit www.somersetpatriots.com.
About the Atlantic League of Professional Baseball (ALPB)
The Atlantic League has been a leader in professional baseball and a gateway to Major League Baseball since 1998. Over 40 million fans have attended Atlantic League games and more than 900 players and 70 managers and coaches have joined MLB organizations directly from the ALPB. The Atlantic League emphasizes winning baseball games, showcasing the talent of top-caliber players and offering affordable family entertainment.
For more information, please visit www.AtlanticLeague.com