News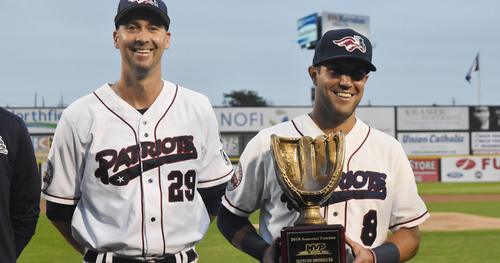 09/21/2018 10:45 AM
-
Bridgewater, NJ - The Somerset Patriots announced that shortstop Alfredo Rodriguez has been named MVP of the team following the conclusion of the 2018 regular season. Rodriguez was chosen in a fan vote and was highly regarded this year for his spectacular efforts at the plate, on the base paths, and in the field for the First Half Liberty Division Champions.
In his second season in a Patriots uniform, Rodriguez put up huge numbers. He batted .303 and set career highs with five home runs and a team-leading 55 RBI. He finished 10th in the league in hitting, while finishing fourth with a .395 OBP (also a career high). Rodriguez led the team with 69 runs scored and 131 hits. He also stole 17 bases, showing the product of good speed combined with excellent base running and timely aggressiveness.
However, it wasn't just Rodriguez's offense that led to the team MVP selection. He was one of the best and most consistent shortstops in the league, starting 119 games commanding the Somerset infield. He led all shortstops with 309 assists, and only committed 14 errors the entire season in over 1,030 innings on the field. His .973 fielding percentage ranked second in the league for all shortstops with more than 50 chances in the field.
Finally, his everyday grind mentality and expose of consistency was the final reason Alfredo Rodriguez garnered the MVP award for this team. He played in 122 of the 126 games this year, and never struggled for more than a few brief moments during the year. He owned the second longest hitting streak on the team this year (15 games) and the third longest on-base streak (20 games). Rodriguez had 33 multi-hit games, 14 multi-RBI games, and Somerset was 34-14 this year in games where he scored a run.
To top it all off, Alfredo Rodriguez notched an All-Star Game selection this year on Long Island, where he owned the spotlight. He went 3-3 with a walk, two RBI, and the walk-off winning hit to give the Liberty Division the win and garner All-Star Game MVP honors.
Now, Rodriguez will try to win his first Atlantic League Championship in the red, white, and blue.