News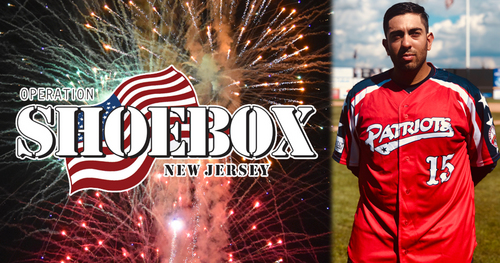 07/03/2018 3:19 PM
-
Bridgewater, NJ – Operation Shoebox New Jersey will host an auction of game-worn Somerset Patriots jerseys on Friday, July 6 at TD Bank Ballpark.
All proceeds from the jersey tricky tray auction will be used to pay for shipment of personal care packages to U.S. troops deployed overseas.
Gates open at 6 p.m. for Friday night's game against the Road Warriors. Game time is 7:05 p.m. There will be a post-game fireworks display sponsored by Operation Shoebox New Jersey as part of the Patriots' Star-Spangled Weekend celebration.
Players will wear a commemorative red, white and blue jersey with the Operation Shoebox New Jersey logo on the sleeve. The uniforms will be distributed at the conclusion of the game to the winner.
Fans can buy tickets to drop into buckets at a display table on the concourse; each bucket will be labeled with the players' name and uniform number. Bidding closes during the seventh inning. Winners will be drawn from each bucket, with the winners' names posted on a display board on the concourse alongside the Operation Shoebox New Jersey display.
The game-worn uniforms will be gathered up in the locker room, individually bagged, and presented to the winners. The players will autograph each of their jerseys.
Fans will also have the opportunity to sign up for the Victory Campaign fund raiser sponsored by the volunteer organization and pick up flyers for future Operation Shoebox New Jersey events, including a volunteer packing at TD Bank Ballpark Saturday, July 28.
Volunteers who help assemble care packages from 11 a.m.-2 p.m. that day will receive a free ticket to the Sunday, July 29 game against the Road Warriors which will feature a live auction of Somerset Patriots items and sports memorabilia, including a pair of spikes worn by former Patriots manager Sparky Lyle during the New York Yankees 1977 championship season. Lyle will assist in the auction of his spikes, which he donated to Operation Shoebox New Jersey.
Honored as Atlantic League Manager of the Year three times during his tenure with the Patriots, Lyle had an 18-year career in the Major Leagues, winning the Cy Young Award with the New York Yankees in 1977. Lyle now serves as manager emeritus of the Patriots and will visit the OPSHBX NJ display on the concourse during the game.
Lyle will also help assemble care packages on the concourse during the July 28 packing.
Since its inception in 2005, Operation Shoebox New Jersey volunteers have helped assemble and ship 140,000 personal care packages overseas.
Upwards of two dozen items will be up for bid at the July 29 auction, conducted by renowned central New Jersey auctioneer Joe Bodnar, reigning bid-calling champion of the New Jersey State Society of Auctioneers. The auction will be held after conclusion of the 5:05 p.m. game.
Standing atop the Patriots' first base dugout, Bodnar will sell a variety of Somerset Patriots' and Major League sports memorabilia, including autographed baseballs, lithographs, vintage baseball cards, sports banners and other items.
Nationally-renowned sports artist and Flemington resident James Fiorentino will donate a limited-edition print to be sold at the auction.
Auction highlights also include a spectacular Somerset Patriots Experience package which includes a Hospitality Suite For 30 people (food and beverages are not included); throwing out the ceremonial first pitch prior to a game; a chance to be on the field and in the dugout as Honorary Bat Boy or Bat Girl and a pre-game "Meet and Greet" with Patriots manager Brett Jodie, Lyle and players.
Everyone in the stands will be eligible to participate in the auction, with auction spotters scattered throughout the stands to ensure everyone's bid.
"We're honored, privileged and excited to be a part of this unique event," said Rod Hirsch, founder and executive director of Operation Shoebox New Jersey. "We've assembled some high quality sports memorabilia in hopes that fans will stay after the game for the opportunity to bid - and bid often - on collectibles and opportunities that don't come along that often."
OPSHBX NJ is a 501(c)(3) non-profit organization; all donations are tax deductible.
The 2018 Somerset Patriots Season presented by Ford is underway and features the team's 20th Season at TD Bank Ballpark. For tickets, visit www.somersetpatriots.com.
About The Atlantic League of Professional Baseball (ALPB)
The Atlantic League has been a leader in professional baseball and a gateway to Major League Baseball since 1998. Over 38 million fans have attended Atlantic League games and more than 900 players and 50 managers and coaches have joined MLB organizations directly from the ALPB. The Atlantic League emphasizes winning baseball games, showcasing the talent of top-caliber players and offering affordable family entertainment.
For more information, please visit www.atlanticleague.com.