News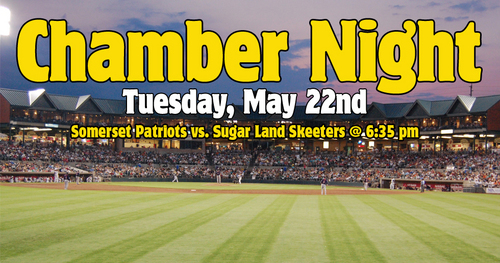 05/19/2018 8:22 AM
-
BRIDGEWATER, NJ - The Somerset County Business Partnership will join other central Jersey Chambers of Commerce on Tuesday, May, 22, 2018 for "Chamber Night at the Ballpark," a mega-networking event at TD Bank Ballpark, home of the 6-time Atlantic League Champion Somerset Patriots.
With the Patriots playing the Sugarland Skeeters at 6:35 P.M., members of Chambers seeking new business contacts will enjoy a Ballpark BBQ and an exciting professional baseball game. Doors open at 5:35 P.M.
Participating Chambers include: Somerset County Business Partnership, Middlesex County Chamber of Commerce, Princeton Regional Chamber of Commerce, Hunterdon County Chamber of Commerce, Greater Westfield Area Chamber of Commerce, Warren Township Chamber of Commerce, Basking Ridge Business Alliance, and Edison Chamber of Commerce.
"Bringing multiple Chambers together for an entertaining evening makes for an amazing networking opportunity," commented Chris Edwards, Director of Business Development for the Business Partnership. "With everyone on the same page, seeking new business contacts. Successful networking is virtually guaranteed."
Ticket price is $28 and includes the Ballpark BBQ and ticket to the game.

Click on "Group Portal Login" and enter password Chamber 18.
For information, contact the Patriots at 908-252-0700 or the Somerset County Business Partnership at 908-218-4300.
BACKGROUNDER
The Somerset County Business Partnership serves as central New Jersey's regional Chamber of Commerce. Members and investors represent public, private and community organizations, working in partnership and dedicated to maintaining and promoting economic prosperity and quality of life in Somerset County. The Somerset County Business Partnership is an essential partner for doing business in Somerset County, and as such is the premier regional business organization in New Jersey. The Business Partnership seeks to achieve four key outcomes; public leadership, advocacy, economic and community development, and value/engagement, providing LEADERSHIP, OPPORTUNITY, AND RESULTS to the Somerset County Business Community.