News
02/17/2018 3:39 PM
-
Bridgewater, NJ- Over the past few weeks the Somerset Patriots have been announcing their 2018 squad. Here's a look at some of the players that have already been re-signed to join the team.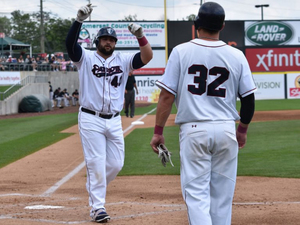 Kyle Roller- 1B/DH
Roller enters his third season with the Somerset Patriots and in the Atlantic League of Professional Baseball. Previously, he spent the first six seasons of his career with the New York Yankees organization before playing the first half of 2016 with the Tampa Bay Rays organization.
"I'm really excited to be coming back to Somerset for another year," said Roller on his return. "I'm looking forward to putting in the hard work with the guys to go out there and compete for a championship."
Despite playing in only 90 games during the 2017 regular season, Roller led the Atlantic League in slugging percentage (.591), on-base percentage (.429) and OPS (1.020). The next closest player in slugging (Alonzo Harris, York) finished 61 points lower than Roller, while the next closest in on-base percentage (James Skelton, New Britain) finished 21 points lower.
Additionally, the former East Carolina University standout finished third in the league in batting (.326), sixth in home runs (22), tied-sixth in RBI (77) and tied-eighth in walks (55). Roller's 61 runs scored were tied for the team-lead while his 102 hits ranked third on the team.
Roller went 5-for-5 from the plate in a historic performance on June 28th against Southern Maryland. That night, he hit two home runs and became just the second Somerset Patriot ever to record a cycle (Orlando Miller, 2002). In addition, became the fourth Patriot all-time to tally eight RBI in a single game, tying the franchise record with Ryan Radmanovich (2008), Emiliano Escandon (2003) and Greg Blosser (2001).
The North Carolina native played in 52 games with Somerset in 2016 after joining the team in June. That year, he hit for a .284 batting average with 10 home runs and 40 RBI. Roller reached base at a .401 clip while serving as the Patriots primary first baseman/designated hitter.
Over his eight-year career, Roller holds a .272 career batting average with 133 home runs and 504 runs batted in over 862 career games.
---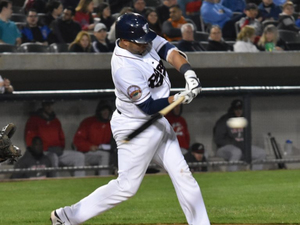 Yovan Gonzalez- Catcher
Gonzalez enters his third season with the Somerset Patriots and his third in the Atlantic League. He finished second on the team in batting (.291) last year (minimum 70 games) with three home runs and 31 RBI over 84 games as the team's primary catcher.
Gonzalez led the Atlantic League in batting at numerous points in 2017, including a .325 batting average in the first half. He was selected as the starting catcher for the Liberty Division in the league's All-Star Game hosted at TD Bank Ballpark.
"We are very happy to have Yovan return as a part of our club," said Somerset Patriots manager Brett Jodie. "Yovan brings an unmatched energy and passion to our team and clubhouse. He truly wants to win every day and he does everything in his power to accomplish that goal. He does a tremendous job with our pitching staff and is an extremely clutch hitter. Yovan brings an excitement to our club that fans will want to see."
The Puerto Rico native shined defensively as well, leading the league in fielding percentage (.997) among catchers for the second-straight year (minimum 650.0 innings). That equated to two errors over 659 chances.
The most memorable aspect of Gonzalez's 2017 campaign, however, was his knack for clutch hitting. The former Cincinnati Reds prospect led the team with four walk-off hits, including a walk-off solo home run against the Lancaster Barnstormers on Opening Night.
Gonzalez hit .264 with two home runs and 30 RBI over 80 games in 2016 – his first season in Somerset – and was used as the team's primary catcher.
Defensively, he led the Atlantic League in fielding among catchers who played in at least 650.0 innings with a .998 fielding percentage (one error in 645 chances). In addition, he finished third among all Atlantic League catchers in innings played (693).
Gonzalez spent the first seven years of his career in the Cincinnati Reds organization, including Triple-A service in Louisville in 2013.
---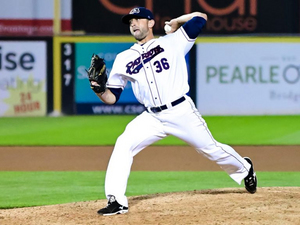 Duane Below- Pitcher
Below enters his second season with the Somerset Patriots and second in the Atlantic League. The lefty went 5-1 last year with a 2.88 ERA over 62.1 innings pitched. His 46 relief appearances ranked third on the Patriots, while his ERA led the team among pitchers with at least 25 appearances. Additionally, Below struck out 58 batters against just nine walks.
The 6'3 southpaw did not allow a run over his first nine relief innings with Somerset and carried a 2.21 ERA in the first half en route to an All-Star Game selection. Below tossed a scoreless inning of relief for the Liberty Division All-Stars at TD Bank Ballpark on July 12th.
"I'm grateful and excited that the Patriots wanted me back this year," said Below. "I'm looking forward to getting back to Somerset and back to work. We have some unfinished business to take care of from last year."
Below shined at the end of the season as well. He did not allow an earned run over his final 12 outings (including the postseason) and did not allow a single walk over his last 14 outings (including the postseason).
The Britton, Michigan native appeared in 43 games (three starts) at the Major League level spread across three seasons (2011-13) with the Detroit Tigers and Miami Marlins. Below's best season in the majors came in 2012 with the Tigers in which he went 2-1 with a 3.88 ERA and 29 strikeouts against just eight walks in 27 appearances (one start).
The Lake Michigan College alumnus owns a 70-62 record with a 3.69 ERA over 248 appearances (182 starts) in 12 seasons in the minors.