News
10/31/2017 9:12 AM
-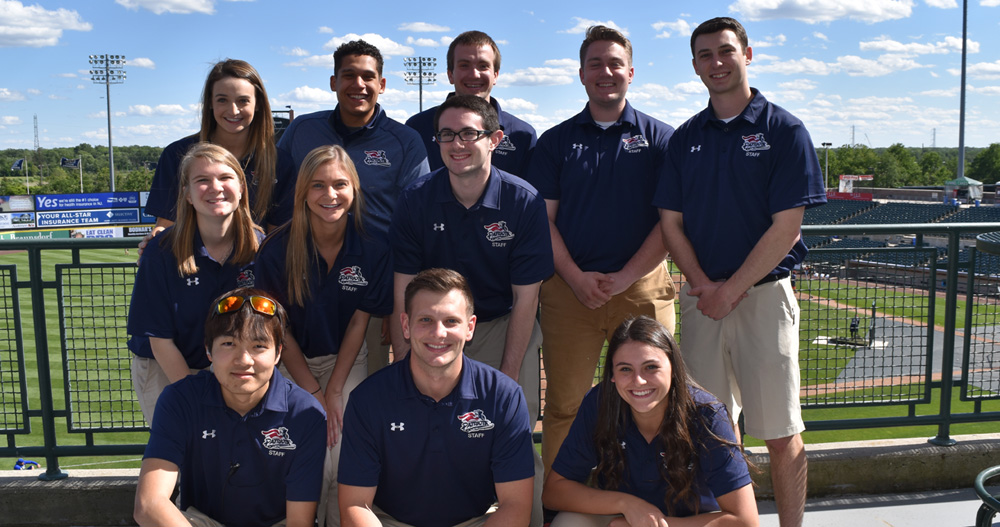 The Six Time Atlantic League Champion Somerset Patriots (Bridgewater, NJ), a member of the Atlantic League of Professional Baseball, are looking for qualified individuals to fill internship positions during the 2018 season.
Program Description: Members of the Internship Program will be exposed to all facets of a Minor League Baseball organization and will gain practical, in-depth experience from one of the positions listed below. Members will also gain valuable experience from a season long learning project that covers various aspects of sport management, including grass roots marketing, theme night creation and execution, ballpark entertainment, sales, video production, and business presentations. Help with resumes and interviewing will also be covered. Prospective candidates will be asked to note their preferred choice of position when applying, however, the Patriots will ultimately decide the position to offer you that best suits your skills and our needs. Ideal candidates will be juniors or seniors in college and/or recent graduates; however, freshman and sophomores are also welcome to apply.
Compensation: $750/month and college credit can also be earned if applicable to the student.
Time Frame/Work Schedule: (May 2018 – September 2018) Interns are expected to begin their internship as soon as they are done with classes for the spring semester and stay until one week before school starts the following year. Graduated seniors are encouraged to stay until the season has concluded. Recent college graduates are expected to work from the beginning of the season (April) until the season has concluded. Hours are full time. Interns are required to work the same amount of days and hours as the full time Front Office Staff. There are 72 home games, additional outside events, and regular non-game day office hours that you will be required to work. This includes nights, weekends and holidays. Interns will be required to sign a document indicating their start/end dates prior to acceptance of the position (FIND ATTACHED ON PAGE THREE). No vacations will be permitted during the season.
Ticket Operations (4 positions available)
Assist the Front Office with all ticketing aspects at ballpark. Duties may include but are not limited to sale, maintenance, and fulfillment of all tickets (season tickets, day of game, hospitality suites, and groups). Candidates will also assist with all day-to-day operations of the ticket office including, but not limited to, working with customers and other duties as assigned. Candidates will also track marketing activities for the box office as well as maintain statistical data that will assist us in our overall marketing plan. Candidates will also report directly to the Vice President of Ticketing for the execution of group sales responsibilities. These may include, but are not limited to, order fulfillment, help administering the Somerset Patriots Kid's Club, game day preparation of group areas around the ballpark, customer service, game day support in various areas, sales, lead generation, theme night development and execution, and administering birthday parties and other group areas in the ballpark during games. Excellent organizational, computer, communication and customer service skills are necessary. Experience with ticketing a plus but not required. All majors are welcome to apply.
Social Media (1 position available)
Assist the Senior Vice President of Marketing with all of our social media pages. Responsibilities may include administering content to engage our followers such as contests and giveaways, promoting upcoming games and events, posting pictures / video during home games. Other responsibilities may include developing ideas to generate new followers on our social media pages. Candidates will need to be proficient in social media platforms, including: Facebook, Twitter, Instagram, Snapchat, LinkedIn, Pinterest, Tumblr, Google+, Reddit and prepared to learn how to utilize the Patriots mobile app. Excellent organizational skills, Photoshop and iOS skills are necessary.
Promotions and Marketing Department (2 positions available)
Candidates will be assisting the Director of Promotions and Events with day of game promotions and special events. Duties will include assisting with setting up and running on-field promotions on game days. Candidates will also play an integral role for in-game entertainment, including researching and preparing new scoreboard graphics, videos and music. There will also be special event management - including our annual Golf Outing - and more that will need assistance.
Assist the Senior Vice President of Marketing with data entry in marketing every Somerset Patriots game via event loading websites, and helping with the team's mobile app, creating promotions, MyReward codes and more. Excellent organizational skills and computer skills are necessary. All majors are welcome to apply.
Stadium Operations (2 positions available)
Assist the Vice President of Operations with daily operations of TD Bank Ballpark. Stadium Operations will be responsible for the general upkeep of the ballpark on non-game days and game days. This includes setting up the ballpark for all events and all aspects of making sure the facility is clean and operational and supplies are fully stocked. Other responsibilities include, but are not limited to, management and scheduling of ushers/ticket takers, parking employees, retail store employees, and game day merchandise hawkers. Excellent organizational, time management, and computer skills are necessary. All Majors are welcome to apply.
Interested candidates for these internships should APPLY HERE!
Public Relations (1 position available)
Assist the Vice President of Public Relations and Media Relations Manager with all aspects of media, public and community relations. Duties will also include taking pictures and videos during the games, sponsor relations, press releases, feature stories, tracking of information for the team, press box needs, daily game notes, mascot coordination, community events, and other duties as assigned. Excellent organizational, management, sales and computer skills are necessary. Writing samples may be requested upon interview. Journalism, Communications and Public Relations majors are preferred, however, all majors are welcome to apply.
Video Production Intern (1 position available)
Assist the Vice President of Public Relations and Media Relations Manager with all aspects of production of content for SPN.tv and social media accounts. This includes camera work and directing of live game broadcasts as well as production and editing for individual clips, shows and features. Responsibilities also include filming during games and creation of highlight clips for postgame recap videos. Ideal candidates should have experience with Final Cut Pro X. Experience with video production is required. Knowledge of Adobe Premier, Photoshop, After Effects and Flash are will be prioritized. Journalism or film majors are preferred, however, all majors are welcome.
Broadcast/ Media Relations (1 position available)
Candidates will work closely with the Vice President of Public Relations and the Broadcasting/ Media Relations Manager on a daily basis to help execute all of the requirements of the media relations department.
Broadcast Responsibilities:
· No.2 play-by-play and color commentary broadcaster for select home games
· On-air hosting of pre-game and post-game shows
· Contribute player interviews for radio and video productions
· Hosting of various SPN.tv video, social media and scoreboard content
· Assist in camera operation for live online games
· Filming of in-game highlights when not on the air
· Voice-overs as needed
Media Relations Responsibilities:
· Assist in the writing and distribution of game recaps and press releases
· Assist in the compiling of daily game notes, rosters and stat sheets
· Work closely with video department for the production of highlight videos and SPN.tv content
· Work closely with social media department to maximize presence
· Maintenance of team's website, blog and social media platforms
· Coordination of player interviews, signings and media availability
· Press Box responsibilities as needed
Please Note: Candidates MUST live within commuting distance or have housing in the Bridgewater area for the entire summer. Please be sure when applying to attach cover letters and resumes to be considered for an interview.
Intern Candidate's resumes will be reviewed once submitted to the site. Most interviews will take place from November through January and will be done on site at TD Bank Ballpark in Bridgewater, NJ. If you are contacted for an interview, you will be asked to provide some dates and times that you have breaks in classes that will allow you to come to TD Bank Ballpark for an interview.
No Phone Calls Please!