News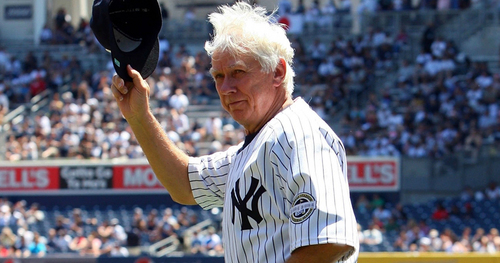 09/07/2017 1:22 AM
-
Bridgewater, NJ- Chairman Steve Kalafer and the Somerset Patriots mourn the passing of our friend, Gene 'Stick" Michael. The New York Yankees announced on their website that Michael died Thursday of a heart attack at the age of 79.
"The Somerset Patriots and the Kalafer family join the New York Yankees, Major League Baseball and the entire baseball world in mourning the loss of a great man, Gene "Stick" Michael," said Kalafer. "Gene was a dear friend, a valuable advisor during our early years, and someone you could always count on to tell you how things were. His extraordinary baseball knowledge and insight were unmatched and he will be severely missed by all who knew him personally and professionally. Our thoughts and prayers are with his family and friends during this difficult time."
Michael was a long-time New York Yankees executive who helped build the club's late-1990's dynasty teams that went on to win four World Series Championships, including three in a row from 1998 through 2000.
He served as Yankees manager in 1981 and 1982 and as their general manager from 1990 to 1995.
"I am heartbroken by Stick's passing," Yankees general manager Brian Cashman said in a team statement. "He was both a friend and a mentor to me, and I relied upon his advice and guidance throughout my career. He did it all in this industry -- player, coach, manager, general manager and scout -- and his knowledge base was second to none. My condolences go out to his family, friends and all those he touched throughout his lifetime in the game. I will miss him."
Michael earned the nickname "Stick" from his playing days, mainly with the Yankees from 1968 to 1974.
In addition to his time with the Yankees, Michael also managed the Chicago Cubs in 1986 and 1987.