News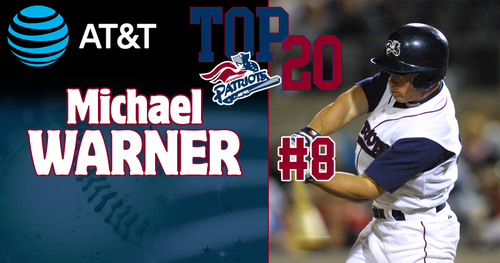 07/17/2017 3:29 AM
-
Bridgewater, NJ – The Somerset Patriots have announced that outfielder Michael Warner has been voted as the #8 Patriot in team history.
The Top 20 Patriots presented by AT&T is a season-long promotion as part of the team's 20th Season. The Top 20 Patriots were voted on by the fans and ranked by an expert panel of team officials, media, and long-time fans.
"It feels awesome. I can't even put it into words," said Warner of his selection to the list. "It's cool that people still remember my time in Somerset. It was almost 15 years ago. It was a great time in my life. Not many people get to experience what we did those years. It means that much more now that I have a family and can tell my kids about it."
Warner joined the Patriots early in the 2000 season after beginning the year with the Atlantic City Surf. It didn't take long for Warner to make an impact on the team, becoming one of the Patriots top hitters. He finished the season with a .303 average, 133 hits, 33 doubles, nine home runs, 53 RBI, and 47 stolen bases.
He returned in 2001 ready to take the league by storm with one of the top offensive seasons in Atlantic League history. Warner was among the league leaders in every offensive category throughout the entire season. He finished the season with a .351 batting average with 144 hits, 17 home runs, 31 doubles, 52 extra base hits, 99 runs scored, and 103 RBI. He had 42 two or more hit games and 38 two or more RBI games to lead Somerset to 83 wins and the team's first championship season.
He became the Patriots first player to be named Atlantic League Player of the Year. The honors continued when Baseball America named him their Independent Minor League Player of the Year.
"It was the best year I had. I remember all the good times and great people I got to meet. On top of it all, we won the championship and in a very unconventional way. Being down 0-2 in the series after the year we had, we couldn't let that happen. We were a bunch of fighters and everybody did their part," Warner added.
Immediately following the season, Warner was signed by the Oakland A's, where he played at the Double-A level in 2002.
He returned to Somerset again in 2003 to help the Patriots win their second championship in three years.
Warner finished his time with the team with a .310 batting average in 370 games played from 2000 through 2003.
Tickets to the 2017 Somerset Patriots Season presented by Ford, which includes the team's 20th Anniversary, are on sale. For more information, stop by the ballpark, call (908) 252-0700, or visit www.somersetpatriots.com.
About The Atlantic League of Professional Baseball (ALPB)
The Atlantic League has been a leader in professional baseball and a gateway to Major League Baseball since 1998. Over 37 million fans have attended Atlantic League games and more than 800 players and 50 managers and coaches have joined MLB organizations directly from the ALPB. The Atlantic League emphasizes winning baseball games, showcasing the talent of top-caliber players and offering affordable family entertainment to metropolitan markets serving nearly 15% of the US population.
For more information, please visit www.atlanticleague.com.

Watch The Video For Exclusive MyRewards Points