News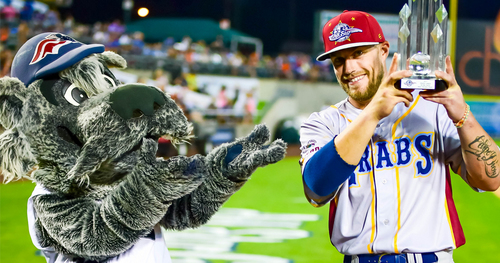 07/12/2017 6:57 PM
-
Bridgewater, NJ- Southern Maryland Blue Crabs infielder Zach Wilson was named both the 2017 Atlantic League All-Star Home Run Derby Champion and the ensuing game's MVP Wednesday night at TD Bank Ballpark.
Wilson slugged eight home runs in the first round to earn a spot in the Championship Round alongside Lancaster Barnstormer infielder Garrett Weber. Weber launched eight homers in the first round as well, but it was Wilson who got the better of the matchup in the finals, hitting four homers to Weber's three, to earn the title.
Other participants of the Home Run Derby included Sean Halton (Lancaster), Mike Crouse (New Britain Bees), Conor Bierfeldt (New Britain) and Angelo Songco (Long Island Ducks).
"[The Home Run Derby] is just one of those things where you want to experience and enjoy it, and that is what I did," said Wilson.
Later in the evening, Wilson was named the MVP of the 20th All-Star Game in Atlantic League history. The second-year Blue Crab lifted a three-run home run in the third inning, which at the time broke-up a 2-2 tie and eventually provided the difference in a 10-3 Freedom Division victory.
The Long Beach, California native finished the night 1-for-3 with the home run, run scored and three RBI.
"We had a great group of guys on our team this year, and it was a pleasure to play with them," remarked Wilson after the game.
Tickets to the 2017 Somerset Patriots Season presented by Ford, which includes the team's 20th Anniversary, are on sale. For more information, stop by the ballpark, call (908) 252-0700, or visit www.somersetpatriots.com.
About The Atlantic League of Professional Baseball (ALPB)
The Atlantic League has been a leader in professional baseball and a gateway to Major League Baseball since 1998. Over 37 million fans have attended Atlantic League games and more than 800 players and 50 managers and coaches have joined MLB organizations directly from the ALPB. The Atlantic League emphasizes winning baseball games, showcasing the talent of top-caliber players and offering affordable family entertainment to metropolitan markets serving nearly 15% of the US population.
For more information, please visit www.atlanticleague.com.