News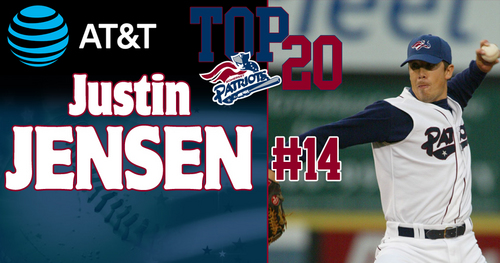 05/30/2017 9:49 AM
-
Bridgewater, NJ- The Somerset Patriots have announced that pitcher Justin Jensen has been voted as the #14 Patriot in team history.
The Top 20 Patriots presented by AT&T is a season-long promotion as part of the team's 20th Season. The Top 20 Patriots were voted on by the fans and ranked by an expert panel of team officials, media, and long-time fans.
"It's amazing to be remembered for my time in Somerset even though it's been a long time since I was there," said Jensen. "There have been so many talented players over 20 years so this is something that is very special. I loved playing for Patriots fans and interacting with them. They were always welcoming to all the players and cared about you whether you had a great game or a bad game."
Jensen introduced himself to the Atlantic League and Somerset Patriots fans with an extraordinary 1999 season that saw him named Atlantic League Pitcher Of The Year. He led the league with his 12-5 record, 2.76 ERA, and 111 strikeouts in 156.1 innings pitched in 24 games.
"I really enjoyed playing for Sparky Lyle and building the relationships I made in Somerset. The 1999 season really started for me when Darrin Winston took me under his wing early on and helped me get in the right frame of mind to pitch," Jensen said. "I stayed hungry and was out there every day set to compete. I always wanted to hand the ball off to Sparky when the game was over and we've won."
Jensen came to Somerset after service in the Detroit Tigers organization. His dominant pitching for the Patriots led to his signing with the Boston Red Sox and New York Yankees organizations.
Jensen returned to the Patriots for the 2002 season, and despite his 3.68 ERA, struggled with a Patriots team that failed to make the playoffs for the first time since 1998.
Jensen returned to form in 2003, finishing with a 9-3 record, a 2.88 ERA, and 79 strikeouts in 125 innings pitched in 19 games started. Despite being on previous Patriots playoff teams, 2003 marked his first and only championship in Somerset.
"We had a great group of guys that all got along and had one common goal from day one. We went out and handled business the right way. It was a very resilient group that just went out there and went after it. It was a great year where everybody played for each other and it led to some great results," Jensen added.
Jensen ranks among the Patriots career all-time leaders with his 35-24 record, 3.62 ERA, and 385 strikeouts in 527 innings pitched in 89 games. He is the team's leader in innings pitched and second in wins, games started, strikeouts, and complete games.
The Top 20 Patriots presented by AT&T will be counted down each week throughout the 2017 season. For more information, visit www.somersetpatriots.com.
Tickets to the 2017 Somerset Patriots Season presented by Ford, which includes the team's 20th Anniversary, are on sale now. TD Bank Ballpark will be the host of the 2017 Atlantic League All-Star Game presented by RWJBarnabas Health and Horizon Blue Cross Blue Shield of New Jersey on Wednesday, July 12th. For more information, stop by the ballpark, call (908) 252-0700, or visit www.somersetpatriots.com.
About The Atlantic League of Professional Baseball (ALPB)
The Atlantic League has been a leader in professional baseball and a gateway to Major League Baseball since 1998. Over 36 million fans have attended Atlantic League games and more than 800 players and 50 managers and coaches have joined MLB organizations directly from the ALPB. The Atlantic League emphasizes winning baseball games, showcasing the talent of top-caliber players and offering affordable family entertainment to metropolitan markets serving nearly 15% of the US population.
For more information, please visit www.atlanticleague.com.