News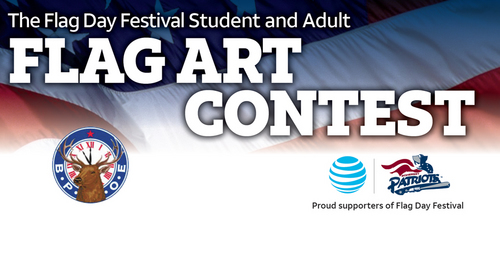 03/02/2017 10:36 AM
-
SOMERVILLE, N.J., March 1, 2017 – The Somerville Elks Lodge #1068 seek to revitalize the Flag Day tradition by inviting residents of Central New Jersey to create inspiring and patriotic art for a new flag art, photography and digital image contest where winners will receive prizes and widespread recognition. The contest runs from March 1, 2017 through May 1, 2017 and the winners will be announced at Flag Day Festival on Main Street in Somerville, N.J. on June 10, 2017.
Winners will be awarded an American Flag, a $100 gift card, and four Somerset Patriots tickets to the June 17, 2017 ballgame where they will be recognized on the field before the game, and with a display of their artwork on the digital scoreboard during the post-game fireworks show. Art teachers of winning students will receive a $100 gift card.
Three finalists will be selected in each of the three Divisions (Students grades 7-9, Students grades 10-12, and Adults) within the two Categories (Photography & Digital Image Flag Art, and Flag Fine Art).
Finalists will have the opportunity to exhibit their work in an Art Show at the AT&T retail store in the Bridgewater Commons Mall on May 19, 2017.
In addition, the Somerville Elks are seeking nominations of high school students whose service or actions have honored our flag and our country in a special way that deserves to be recognized and celebrated. One winner will be selected for the Flag Day Festival American Patriot Award and will receive a $100 gift card and be recognized on the field at the June 17, 2017 Somerset Patriots ballgame. Teachers, parents, scout leaders and all residents are encouraged to submit nominations by May 1, 2017.
The winners of the Flag Art Contest and the Flag Day Festival American Patriot Award will be announced at the Fourth Annual Flag Day Festival on the grounds of the Somerset County Courthouse on Main Street in Somerville, N.J. on June 10, 2017, with a rain date of June 11.
The public is invited to celebrate the American Flag and to enjoy live musical performances, a display of interesting military and rescue vehicles, patriotic art and digital image contest awards, and a street fair full of exhibitors and Americana craft vendors in one red, white, and blue festival with food and prizes that is the largest celebration of Flag Day in the region.
The contest is open to NJ residents and is sponsored by the Somerville Elks, 375 Union Avenue, Bridgewater NJ. Official Rules can be found at flagdayfestival.org/contests/.
Flag Day Festival is proudly supported by AT&T, the Somerset Patriots, and Star 99.1. It is part of the Somerville Elks' commitment to their local communities through programs that help children grow up healthy and drug-free, by undertaking projects that address unmet needs and by honoring the service and sacrifice of our military and veterans.