News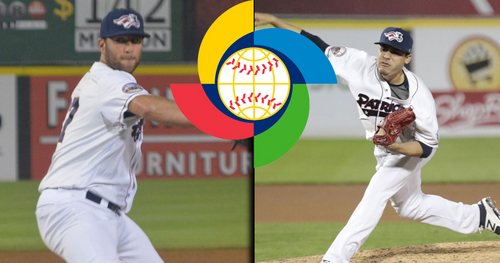 02/10/2017 5:35 AM
-
Bridgewater, NJ – Two members of the 2016 Somerset Patriots, LHP Jeremy Bleich and RHP Jose De La Torre, have been named to 2017 World Baseball Classic rosters, announced by Major League Baseball. Additionally, three other former Somerset Patriots (Tyler Herron, Chris Oxspring and Mike DeMark) will also be represented in the World Baseball Classic.
"Players from around the world have seen their careers pass through the Atlantic League throughout our first 19 seasons," said League President Rick White. "We are excited to see them playing for their countries in this world-class tournament and wish them all the best of luck. This underscores the high quality of competition and phenomenal level of talent in the ALPB."
Bleich was selected to represent Team Israel in the WBC. The Louisiana native went 2-2 with a 2.45 ERA over 17 relief appearances with the Patriots in 2016. Additionally, Bleich struck out 28 batters against just three walks in his 22 innings of work. The southpaw allowed one unearned run with three strikeouts over 2.1 innings pitched for Israel in the 2016 WBC qualifiers.
De La Torre will represent his native Puerto Rico when the Classic begins in early March. The former Major Leaguer joined the Patriots in early September and made four appearances, three of which without yielding a run. De La Torre also tossed two shutout innings of relief in the postseason.
CLICK HERE for a full list of Atlantic League players participating in the World Baseball Classic!
Pool play will begin on March 6 in the four respective host sites. The top two teams from each pool will advance to the second round of the tournament, which will be held in Tokyo from March 11-16 and San Diego from March 14-19. The final four teams will then take the field at Dodger Stadium in Los Angeles between March 20 and 22 to determine the World Baseball Classic champion. Visit www.worldbaseballclassic.com for more information.
Tickets to the 2017 Somerset Patriots Season presented by Ford, which includes the team's 20th Anniversary and the Atlantic League All-Star Game at TD Bank Ballpark, are on sale now. For more information, stop by TD Bank Ballpark, call (908) 252-0700, or visit www.somersetpatriots.com.
About The Atlantic League of Professional Baseball (ALPB)
The Atlantic League has been a leader in professional baseball and a gateway to Major League Baseball since 1998. Over 36 million fans have attended Atlantic League games and more than 800 players and 50 managers and coaches have joined MLB organizations directly from the ALPB. The Atlantic League emphasizes winning baseball games, showcasing the talent of top-caliber players and offering affordable family entertainment to metropolitan markets serving nearly 15% of the US population.
For more information, please visit www.atlanticleague.com.