News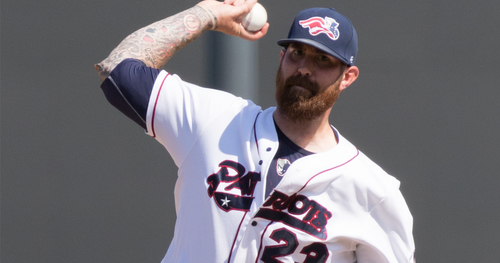 12/12/2016 12:55 PM
-
By Mike Ashmore- Somerset Patriots Beat Writer for Courier News/ Home News Tribune/ MyCentralJersey.Com
During the off-season, the Somerset Patriots will take a look back at some of the work of our beat writer Mike Ashmore to share some of his extraordinary features about the team.
CENTRAL ISLIP, N.Y. – There are no more records left for Jon Hunton to chase, only championships.
The former North Plainfield HS standout broke the Atlantic League's all-time career saves record on Tuesday, May 10, successfully closing out a game for an unprecedented 135th time in the Somerset Patriots 4-1 win over the Long Island Ducks.
Hunton, who also serves as the team's director of player personnel, accomplished the feat with a scoreless ninth to pick up his then seventh save of the season.
"It was definitely on my mind, because I knew about it from (tying the record in Somerset)," he said after the game.
"But I'll be honest with you, with how everything happened with the last save I got and being down 6-0 after the second and that kind of crazy game, not once did I even think about it. It was very different, but I also had four days off…I just knew we needed this win. I knew it was for the record tonight, but once I crossed the lines, it's just, 'Well, I have to attack this batter, I have to get this guy out.' I know those things can distract you, and when they do, you lose focus on the task at hand. So once I got out there, I just worried about one batter at a time."
Now in his fourth full year as the team's closer, Hunton has previously shattered the franchise's single season mark, all-time mark, as well as establishing a new single-season league record with 49 in 2014.
"You can't really put things into words with how consistent he's been," said manager Brett Jodie.
"You can't just take a guy with good stuff and say, 'You're going to be our closer.' There's a certain mentality, and he looks more comfortable in that kind of role than if you threw him in the fifth inning. That's just his comfort level, pitching at the end of a ballgame, and it's so hard to find a guy that wants to do that and is successful at it. That's what he brings."
Now that he's accomplished virtually everything that a closer in the Atlantic League can, the perception from the outside looking in would be that the focus now shifts to winning championships. In reality, that's always been the focus, and the records have just happened to come with it.
"The saves record, it might be a personal record, but it's not for me at all," Hunton said.
"This is for all the guys who've contributed over the years in Somerset who gave me the opportunity to get a save. They're as big a part of it as anyone else. Brett giving me the chance to close a couple years ago and having the utmost confidence in me every time whether I blew a save or not to keep throwing me out there and having that support, it's good to have."