Mobile App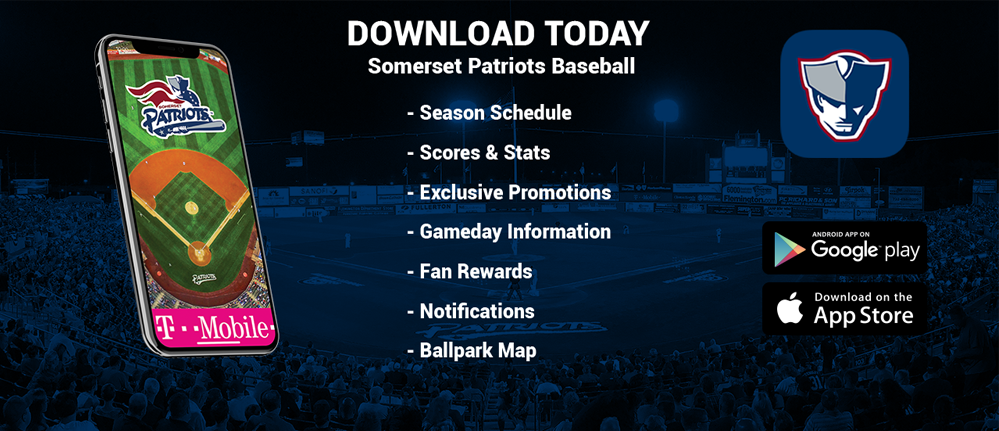 The Somerset Patriots have announced the launch of a brand new mobile app, available now for download in the Apple App Store and for Android phones on Google Play.
The Patriots' new mobile app will offer fans a sleek, updated interface and user experience. Unlike the team's previous app, this new must-have destination will work as a one-stop shop for all-things Somerset Patriots. This spans from embedded game audio and video to deep-linked team news and easily-accessed ticket links.
App users will once again be able to follow the Patriots with unique content in one centralized location
A sharply-designed schedule will allow fans to know which promotions are on tap at TD Bank Ballpark
The new interactive game day landing page will provide the opportunity for everyone to follow along for every pitch
The popular MyRewards program will also be returning in the new app, though users will need to create a new account (points from previous apps will not carry over)
NEW for 2020, MyRewards will be focused solely as an attendance-based incentive programs. Users will be able to "check-in" at all listed events on the app at the appropriate time to earn MyRewards points
These listed events will not only include every home game, but every road game (added points based on travel distance), Fan Club meetings and local sponsored events. Additionally, different home games will be assigned point values based on a variety of factors to be announced.
Fans can view a live MyRewards leaderboard directly in the app and will have the ability to redeem their points for unique prizes and experiences throughout the season.
The new app also offers an interactive Fan Guide with ticket links, a re-designed roster page, staff directory, and more information on the team.
There will be an interactive menu for all ballpark concession items, an easy-to-navigate online team store, and an embedded Google Map with the ballpark included inside the app for easy directions, seating charts and concession locations.
Additional app-specific ticket discounts, special offers, and breaking news will populate on the main page of the app as announced.
This new app, created through a groundbreaking partnership with developers From Now On and extensive research into fan feedback, represents the latest effort by the Patriots organization to engage with their fan base on a more personal level than any other minor league baseball franchise.
MyRewards Rules & Regulations
Signing in to rewards:
All that is required for signing in to rewards is submitting a valid email address. Be sure you are able to access your email from the same mobile device that has this app installed and wish to use to check into events. After submitting your email, visit the email's inbox for a message titled "Rewards sign in link" and follow the simple directions to finish signing in. If you happen to sign out of rewards or need to install the app again, just re-submit your email and follow the same steps.
Checking in to events:
You can check into an event for points when the event is live and you are physically at the venue where the event is taking place. Check in with this app on the mobile device that is registered for rewards. Make sure you are currently signed in to rewards at least while you are using the app and location services are turned on in order to have the check in buttons activated. Not all events may be participating in the rewards program so be sure to look for the point value opportunities under the event cards on top of the home screen or in the participating given game to find out if there are points available for that event.
Point Structure
Home Games
Tuesday's - 175 Points
Wednesday's - 150 Points
Thursday's - 125 Points
Friday's - 100 Points
Saturday's - 75 Points
Sunday's - 125 Points
300 Point Games
May 5th @ 6:35 pm
May 20th @ 11:05am
June 2nd @ 6:35 pm
June 11th @ 6:35 pm
June 30th @ 7:05 pm
July 22nd @ 11:05 am
August 5th @ 7:05 pm
August 25th @ 7:05 pm
September 1st @ 6:35 pm
September 2nd @ 6:35 pm
September 3rd @ 6:35 pm
Away Games (per game)
High Point: 800 points
Lancaster: 200 points
Long Island: 135 points
Southern Maryland: 350 points
Sugar Land: 1,500 points
York: 225 points
How to redeem prizes:
Once you've earned enough points to redeem a certain prize of your choice, that prize will be unlocked under the prizes tab in your rewards profile. Tapping on that prize in the list will open up a detail view. If the prize is able to be redeemed a button at the bottom of the screen will appear that says "Redeem for ## points". Tap there and follow the directions given on the redemption screens. Supplies may be limited! Redeeming a prize will "spend" the amount of points that equals the value of the prize you redeemed. Although points will be subtracted from your profile, the app keeps track of the total number of points you've earned over a given period of time and ranks you against other participants. The participants with the highest number of points over time could be eligible for special value prizes.
Special value prizes:
Some prizes may not have a point value assigned to them. These prizes are generally reserved for end of the season rankings and given to those who have earned the highest number of points for a given period of time. Be sure to carefully read the description details of these prizes of more information.
Points will Expire
Please be aware that by 12/31 the points you have accrued this year, will expire. We encourage you to use up your points during this season to get some cool prizes.
Duplicate Accounts:
Please create only one Fan Reward Program per person. If found that one user has multiple accounts, the 2nd account will be terminated, and 1,000 points will be deducted from the main account!