Roster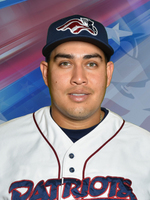 Active
Ramon Flores
#11
Position:
OF
Date of Birth:
03/26/1992
Height:
5' 10"
Weight:
190 lbs
Bats:
L
Throws:
L
Resides:
Pembroke Pines, FL
Biography:
Flores enters his first season with the Somerset Patriots and first in the Atlantic League. The left-handed outfielder has three years of service at the Major League level. He broke into the big leagues with the New York Yankees in 2015 as a 23 year-old. There, he recorded seven hits over 12 games before he was traded along with Jose Ramirez to the Seattle Mariners at the trade deadline for Dustin Ackley. He was traded again in the ensuing offseason from the Mariners to the Milwaukee Brewers.
The Venezuelan countryman enjoyed his best season in the majors in 2016 with the Brewers. That season, Flores recorded 51 hits, eight doubles, two home runs and 19 stolen bases over 104 games. He made it back up to the majors again in 2017 and played three games with the Los Angeles Angels of Anaheim.
Flores originally signed with the Yankees as a 17 year-old in 2009 and rose through the ranks thanks to a couple of notable seasons. He hit .302 with six home runs, 39 RBI and 24 stolen bases as a 20 year-old with High-A Tampa in 2012. Flores also impressed in 2015 with the Scranton/Wilkes-Barre RailRiders by hitting .286 with seven home runs and 34 RBI.
His most productive season in professional baseball came last year with Triple-A Salt Lake in the Angels organization. There, Flores hit .312 with 10 home runs, 71 RBI and 12 stolen bases over 115 games before his promotion to the Angels.
Flores began his 2018 season with Triple-A Pawtucket in the Boston Red Sox organization, hitting three home runs with 17 RBI over 56 games. He has played exclusively at the Triple-A or Major League level stateside in each of his last four seasons.