Roster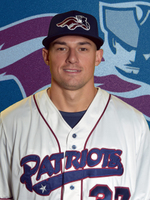 Active
Joe Maloney
#37
Position:
OF
Date of Birth:
07/27/1990
Height:
6' 2"
Weight:
190 lbs
Bats:
R
Throws:
R
Resides:
Aston, PA
Biography:
Maloney enters his first season with the Somerset Patriots and in the Atlantic League of Professional Baseball.
He just finished a playoff run with the Boulders that ended in the championship series. Maloney had a .282 average, 84 runs, 105 hits, 24 doubles, 35 home runs and 101 RBI during the 2017 season for Rockland. His home runs and RBI led the Can American League this season.
Maloney has prior minor league service in the Texas Rangers and Minnesota Twins organizations. He played in 39 games for Double-A Chattanooga last season and had six home runs and 51 RBI.
Maloney has a career .265 average with 350 runs, 557 hits, 144 doubles, 10 triples, 93 home runs, and 402 RBI over seven seasons.