Roster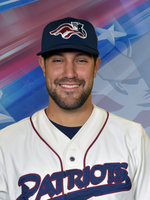 Active
Alfredo Rodriguez
#8
Position:
IF
Date of Birth:
05/26/1990
Height:
6' 0"
Weight:
175 lbs
Bats:
R
Throws:
R
Resides:
Oak Hill, VA
Biography:
Rodriguez enters his second season with the Somerset Patriots and second in the Atlantic League. The natural shortstop hit .257 with a home run, 32 RBI and 14 stolen bases with the Patriots last year. He led the team in doubles (20), ranked second in games played (112), at-bats (405), hits (104) and finished third in runs (57) and walks (50). Additionally, Rodriguez hit .412 (7-for-17) with three runs in the playoffs.
The Oak Hill, Virginia native also set a couple of team milestones during the 2017 season. He was the only player to score four runs in a game; a feat he accomplished twice (May 1 at New Britain and June 26 vs. Southern Maryland). He was also tied for the longest hitting streak on the team (June 28 – July 20) and owned the season's second longest on-base streak (20 games, June 17 – July 20). He hit .397 (31-for-78) over that 20-game stretch.
Prior to joining Somerset, Rodriguez spent the previous two seasons with the Joliet Slammers (Frontier League). Rodriguez never missed a start in his two seasons with the Slammers, both years leading the league in games played (96).
In 2015, Rodriguez batted a career-high .287 over 96 games with 18 stolen bases. He hit .281 with a career-high 21 stolen bases over 96 games played the following season.
Rodriguez has always held an on-base percentage of .341 or higher in each of his six professional seasons. That includes a career-high .385 OBP last year in Joliet. His career on-base percentage stands at .364.
The University of Maryland alumnus was originally drafted in the 17th round of the 2012 draft by the Milwaukee Brewers. He spent the first three years of his career in the Brewers organization, including a season with High-A Brevard County in 2014. Rodriguez owns a career .272 average with 13 home runs, 197 RBI and 86 stolen bases over six professional seasons.