Roster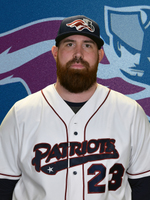 Active
Jon Hunton
#23
Position:
P
Date of Birth:
11/30/1982
Height:
6' 9"
Weight:
250 lbs
Bats:
R
Throws:
R
Resides:
North Plainfield, NJ
Biography:
Hunton's 37 saves led the league during the 2016 season and helped him shatter the Atlantic League career saves record. He broke the record held by Southern Maryland's Jim Ed Warden on May 10th and added to the mark to finish with 165 saves going into 2017.
The two-time Atlantic League All-Star (2013, 2016) has now saved 30 or more games in each of his last four seasons in Somerset.
Hunton enters his sixth season with the Patriots, and fourth as the Director of Player Personnel. Three years ago, Hunton became the first player in professional baseball to hold the title of Director of Player Personnel while still playing.
The 6'9" closer finished second in the Atlantic League in saves in 2015 with 32. He also carried a 3.09 ERA over his 50 appearances on the year.
Hunton broke the Atlantic League record for saves in a single-season with 49 in 2014. He finished that season as the Atlantic League's "Closer of the Year" for a performance that also included a 2.08 ERA and 33 strikeouts in 56.1 innings pitched over 59 games.
The North Plainfield, New Jersey native has experience in the Chicago Cubs and Oakland A's organizations, including a season at both the Double-A and Triple-A level.
Hunton joined Somerset late during the team's championship run in 2008 and appeared in eight games. After his time with the Patriots, Hunton signed with the A's, where he spent the next two seasons.
Hunton has 274 career saves over a 13-year career that's taken him all over the United States and around the world.