My Rewards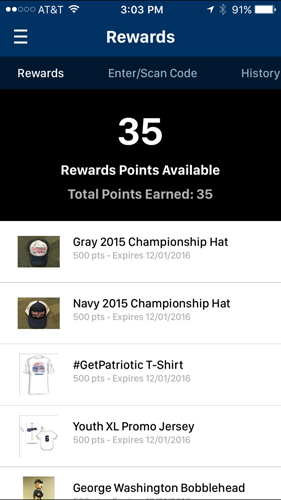 The Somerset Patriots mobile app is also home to our brand new Patriots My Rewards program!
Read on to see how you can score FREE stuff like merchandise, tickets, and VIP Experiences just for being a fan!
Check Rewards in the app as new rewards will be added throughout the season!
Within the Somerset Patriots App Menu, tap My Rewards, then Enter/Scan Code
2 Options to Enter Codes:
1: Scan the QR Code
OR
2: Enter the Promo Code
Click This Image For An Instructional Video:
Be on the lookout for MyReward Codes we'll push out throughout the year. Enter those codes in the app, to redeem for great prizes and VIP Experiences!
Ways to earn Patriots MyReward Points:
Go to Somerset Patriots Games, and scan the code at the Customer Service desk. A new code for every game!
Listen for a special PA Announcement for every game, announcing a new code for every game!
Read Press Releases
Watch our Videos
Follow our Social Media Pages for unique codes on Facebook, Twitter, Instagram, Google+, Snapchat
Listen to the Radio Broadcast on WCTC 1450 for home and road games to get a new code, every game!
Look out for photo galleries that might have a hidden MyReward code
Make purchases in the Team Store for special codes
Participate in contests and sweepstakes
Look out for special promotions at the ballpark or on the app, where we might drop codes anywhere!
Keep in mind that Reward Codes do expire. Some last just one day, some last a bit longer. So we encourage you to follow the Somerset Patriots every day and enter those codes in once you see them.
Good Luck, and happy MyReward code hunting!
Hey…here's one of those codes: More Points
Quick Facts
What is it?
We are excited to announce a loyalty program for fans that is part of our brand new mobile app! There will be tons of opportunities to earn Patriots My Rewards Points that can be redeemed for great rewards and prizes!
How do I sign up?
Simply by downloading the free App from your App store and registering either through the Facebook login option or with your email address, you are instantly ready to start earning points to be put toward rewards!
How does it work?
Fans earn Patriots My Rewards Points that can be redeemed for a number of great rewards. Patriots My Rewards Points are earned by inputting or scanning loyalty codes at checkout (or other places, online and on-location at games, at sponsor locations, and at team events) in the My Rewards section of the app, where it says 'Scan/Enter Code.'
What rewards can I earn?
Fans can earn points toward a number of rewards that will be updated throughout the season. Rewards include things like: signed team swag, Somerset Patriots merchandise, concessions, free tickets, VIP experiences, free stuff from sponsors, and more. To see what rewards are available now, and how many points are needed to earn them, go to My Rewards in the menu of the mobile app.
Scan or Enter Loyalty Codes to Earn Points
Patriots My Rewards points are earned in a number of ways. Sometimes, we'll announce and show loyalty codes during games, others are given to fans when they subscribe to our email newsletter, read content online or in the app, interact on social media, purchase food at concessions, come to a team event, shop at the team store or at a sponsor location, and more. Loyalty codes can also be 'hidden' in our digital and print content, on game broadcasts, in the app itself, and a number of other places.
Each loyalty code, unless otherwise stated, can only be used once per person and are subject to expire. Also, while your points will be yours to use until the end of the season, not all rewards will be available all season and are subject to change.
Redeeming Points for Rewards
When you decide you are ready to redeem some points for a reward, simply go to the My Rewards section of the app and tap on the reward you want to redeem. Be sure you have enough points to get the desired reward.
Then, the staff member will scan or input a special code they have to allow you to redeem your points for the reward you want. Once that code is in, your points will be deducted and you get to enjoy your reward!
FAQ
How do I keep track of my points?
Your app keeps a running total of your Patriots My Rewards Points and you can view your total at any time by visiting the My Rewards section of your app.
Can I use the same reward more than once?
There is no limit to the number of times you can use your points toward a reward as long as you have enough points. Certain restrictions may apply for how many times you can redeem a reward in a single day.
Can I combine my points with others to redeem them for the bigger rewards?
No, rewards can only be redeemed by using your own points and may not be combined with those of friends or family.
Is there a way to earn points outside of the mobile app?
The Patriots My Rewards program is a feature offered EXCLUSIVELY on our mobile app, so you must have the app and be registered with it in order to participate.
When do my Points Expire?
Points will expire by 12/15 at the end of the year. We encourage you to redeem your points for rewards while you can during the season.