Mobile App

Presented By:

The Somerset Patriots official mobile app gives Patriots baseball fans immediate access to our exclusive loyalty program, news, schedule, promotions, stats, social posts, photos and videos! #GetPatriotic and download our app!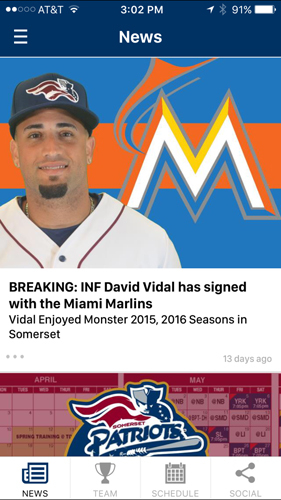 App Features:
Live News Feed containing recent team news, photos and videos
Media (Listen Live, Watch, Read)
Schedule / Buy Tickets
Group and Season Ticket Information
Roster, Coaches
Live Team Stats
Live Standings
Live Social Feed containing recent posts on Somerset Patriots Social Media platforms
Venue Information (including Concession Stand offerings and map)
Team Store – Shop for Patriots Gear
My Profile
My Rewards (sign up to earn points and redeem rewards)
Settings (subscribe / unsubscribe to push notifications)
The app fully integrates the entire Somerset Patriots' experience, from purchasing tickets with the touch of your fingertip to in-game video highlights and score updates.