Hit A Home Run Program

The Somerset Patriots and infielder Scott Kelly have launched the "Hit A Home Run" school program to bring a special message to students.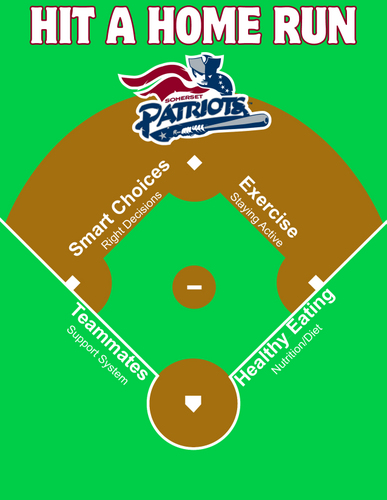 "Hit A Home Run" is a free program that is designed as a straightforward plan to help kids visualize ways to:
Eat Right
Exercise
Make Smart Choices
Be A Good Teammate
Kelly leads the program using a baseball diagram and the infield bases to show how each topic discussed can help a person live a healthy and happy life to achieve their goals.
"Everything in life can be looked at with this plan," said Kelly. "It starts with what you can do for yourself to help you on your way to success. Eating healthy and exercising are the first steps. Making the right choices and being around the right people, as well as being good to others, can help you be the best version of yourself."
Kelly discusses examples of each of the topics in his own life and then allows the students to interact throughout the program with their own examples or questions.
"I'm really excited to launch this program and deliver the message to as many students as possible," Kelly added. "These are all important topics that translate well in the program. Everything from health and wellness, respect and compassion for each other, and setting goals is covered. All of these are discussed daily at schools and at home. It sometimes helps to hear it from somebody new."
About Scott Kelly:
In addition to being a fan favorite for his gritty play in games and accessibility off the field, Kelly has been one of the Somerset Patriots top community ambassadors over the past four years. During the off-season, he serves as a substitute teacher in Central New Jersey. A big kid at heart, Kelly is energetic, knowledgeable, and very relatable to children of all ages.
Kelly just finished his fourth season with the Somerset Patriots and fourth in the Atlantic League. In 2016, Kelly appeared in a career-high 116 games and set career marks in hits (102), runs (66), doubles (17), RBI (30) and stolen bases (38) along with a .265 average. The 116 games ranked third on the Patriots, while the 38 steals led the team and ranked fourth overall in the Atlantic League.
The West Windsor, New Jersey native notched his first career home run during the regular season and followed it up with a dramatic walk-off solo home run in the bottom of the 11th inning in Game One of the Liberty Division Championship Series against the Long Island Ducks. Kelly went 8-18 (.444) in the 2016 postseason with the home run and a pair of doubles.
Kelly appeared in just 31 games due to injury in 2015, but still hit .337 with 10 RBI, 20 runs scored and seven stolen bases. Defensively, he made appearances at second base, third base and shortstop.
The versatile infielder began his minor league career with the Somerset Patriots in 2014 after earning an invitation to Spring Training from the team's Open Tryouts. That year, he led the team in stolen bases (20) over his 92 games played.
The 26-year old played his college ball at The College of New Jersey, where he hit .345 and .346 in his last two seasons, respectively. Additionally, he is the all-time leader at TCNJ in at-bats (663) and stolen bases (98), while ranking second in runs scored (165) and fourth in games played (161).